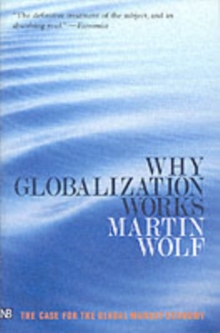 Why Globalization Works
Paperback
Description
The debate on globalization has reached a level of intensity that inhibits comprehension and obscures the issues.
In this book a highly distinguished international economist scrupulously explains how globalization works as a concept and how it operates in reality.
Martin Wolf confronts the charges against globalization, delivers a devastating critique of each, and offers a realistic scenario for economic internationalism in the future.Wolf begins by outlining the history of the global economy in the twentieth century and explaining the mechanics of world trade.
He dissects the agenda of globalization's critics, and rebuts the arguments that it undermines sovereignty, weakens democracy, intensifies inequality, privileges the multinational corporation, and devastates the environment.
The author persuasively defends the principles of international economic integration, arguing that the biggest obstacle to global economic progress has been the failure not of the market but of politics and government, in rich countries as well as poor.
He examines the threat that terrorism poses and maps the way to a global market economy that can work for everyone.
Information
Format: Paperback
Pages: 416 pages
Publisher: Yale University Press
Publication Date: 04/02/2005
Category: Globalization
ISBN: 9780300107777
Free Home Delivery
on all orders
Pick up orders
from local bookshops
Reviews
Showing 1 - 1 of 1 reviews.
Review by jddunn
16/06/2015
This book addresses globalization almost exclusively from an economic standpoint. Viewed within those bounds, it seems pretty good, though I had a hard time telling how much to take at face value since I didn't feel like I had enough of a grasp of macroeconomics, trade, and finance to really engage and argue with it. He seemed to be making every effort to be even-handed, in that sober British-empiricist sort of way, but it's hard to tell if that's genuine or just a rhetorical strategy.But, I've also not had much doubt that globalization has been an economic boon, if a somewhat fraught and unstable one, for most people and countries involved, or that the lack of integration with global markets is what's really killing the poorest of the poor countries, which is the best and most compelling argument he makes. The problem is that he refuses to engage the argument that there might be other values that aren't strictly economic but are nonetheless requirements for human health and happiness. Economic growth is of course incredibly important, but it's necessary-but-not-sufficient, and economists can never seem to grasp that simple fact. He also blatantly caricatures those who would make arguments against a solely economic valuation of human happiness, almost always picking his putative opponents from the dumbest and most flamboyant 5% of people who question the costs of globalization, etc. The old "dirty hippies" kneejerk thing, which I would have thought he was above based on the soberness of much of his argument. Whenever he argues against fellow economists, he's always evenhanded and fair, but anytime a non-economic concern comes up, he quickly gets dismissive and petulant.So, if you want a look at globalization as an economic phenomenon from a market fundamentalist who at least seems fairly even-handed and willing to acknowledge and critique the errors and injustices that have happened in a strictly economic context, this is your book. If you want a broad-based argument for or critical examination of globalization that really addresses environmental, social, cultural, and the myriad other associated concerns, you'll have to look elsewhere. Definitely worth reading as part of a broad survey, which is sort of what I'm gradually doing on the topic, but I wouldn't read it as a sole source.
Also by Martin Wolf