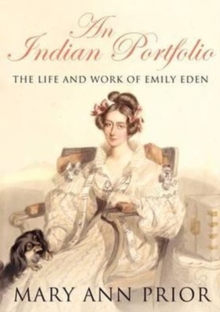 An Indian Portfolio : The Life and Work of Emily Eden
Hardback
Description
Emily Eden (1797-1869) was born into a prominent Whig family and grew up surrounded by an aristocratic inner circle of British social and political life. In 1835, her unmarried older brother, George, was appointed Governor-General of India. Unmarried herself, Emily was to be his consort during his six-year tenure.
She travelled reluctantly, complaining bitterly and constantly about life in India.
Between 1837 and 1840 Emily accompanied her brother 'up country' on a mission to forestall the perceived threat to British interests from Russia and Persia, both stealthily eyeing India and concocting plans to invade Afghanistan.
This period produced a great surge in Emily's written and artistic output; her creativity sustained her throughout the whole time she was in India, and also provided her with a resource on which to draw for the rest of her life. Mary Ann Prior has re-traced Emily Eden's footsteps through the upper provinces and charts the immense changes that have taken place over the 170 years since, noting the constants - the continuing foreign military presence in an area that could be called the 'Balkans of Central Asia'. George Eden's policies contributed to the disastrous first Afghan war, a bloody clash of cultures that was to be a harbinger of future conflict still with us today.
Emily's visual and written material from her sojourn abroad has been used as the linchpin on which to attach snippets of information about modern India.
It also gave the author a chance to match unidentified paintings to the places where they were produced, to date undated ones, and to connect anonymous sitters with their true personalities.
Information
Format: Hardback
Pages: 420 pages, 150
Publisher: Quartet Books
Publication Date: 20/09/2012
Category: Biography: literary
ISBN: 9780704372177
Free Home Delivery
on all orders
Pick up orders
from local bookshops