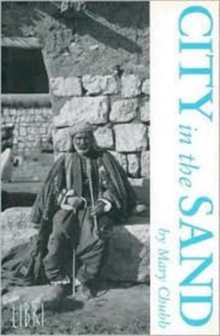 City in the Sand
Paperback / softback
Description
Who are we? Where do we come from? What formed us? Why are we as we are now? Today's world is amorphous and inexplicable without an idea of the past, including the most ancient, its prehistory.
Mary Chubb's "City in the Sand", reprinted after 42 years, is about a dig (and several peripheral others) in Iraq in 1932, sandwiched between much shorter accounts of vigorous walking in Greece and Crete with other archaeological friends before and after it.
Poignant thoughts arise of then and now in Iraq when she writes, "The country was at peace, and a good man was king".
Westerners, welcomed and given concessions to dig in certain areas, could plan well ahead and find skilled local labour.
As secretary to the Director of the dig, Hans Frankfort, a Dutchman she greatly admired, Mary Chubb was part of an international group funded by the University of Chicago as part of a vast plan of archaeological discovery in the Middle East, stretching forward into the late thirties.
For what became a group not just of colleagues but of friends, it was a time of excitement and intellectual richness, shared and therefore doubled. The main task was the discovery with what seems miraculous skill and luck of Eshnunna, an ancient vassal city of Ur, and its complex uncovering - horizontal layers of building, thirty foot down, sorted into their periods, combed in minutest detail.
It was heady work. Seals with which merchants marked their wares told, for instance, how goods had arrived there from India much earlier than anyone had thought; statues identified ancient gods; inscriptions, ancient rulers.
Beautiful jewellery, beads, metalware, pottery, tools, artefacts of all sorts testified to the sophisticated civilization which had ruled there.
It was dizzyingly exciting, the daily surprises, the sense of awe, and Miss Chubb, an amateur writing for the general reader, though she learn a great deal on the way, put across its fascination to the non-specialist with detailed explanations from the specialists on hand. Always it is what she calls "the human touch, a voice speaking down the ages" that appeals most to her: the thought of the man who held the seal "in his warm brown hand"; of the baby whose perfect footprint was pressed in plaster "hundreds of years before Abraham, away down in Ur, had gathered up his family and belongings ...to set out westwards for his new homeland"; of the thumb prints on ancient bricks; of the fearsome pear-shaped stones bored through the centre, exactly like those still used by the dig's basket boys as defensive weapons, now mounted on sticks; underground for thousands of years, these wooden handles had perished.
As in her earlier book about her first dig, at Tell el-Amarna in Egypt, "Nefertiti Lived Here", the emphasis in the telling is also on the human story today - that of the team working on the sites: archaeologists, architect, photographer, recorder of objects found, reader of inscriptions, and Gabriel, the indispensable odd-job man and driver who kept the show on the road.
Miss Chubb is a natural stylist, her writing vigorous, fluent and graceful. Vivid images are slipped in with ease ("the muffled pulsing of the ship's heart"), and descriptions of landscape and weather, particularly in the lovely Greek and Cretan countryside, turn one's heart over now and then.
This, of course, is what makes the book most memorable.
The subject must fascinate all but the most incurious, and to bring it alive in modern terms there is a group of people in an atmosphere of comradeship, hard work, tough conditions and enormous fun.
But it is the writing itself that really brings it alve: Miss Chubb has not just skill with language but a novelist's way with people.
The personalities, the day-to-day life, reach us over 70 years as brightly as if they were (as she is) still with us.
So her story is not just of historical interest but an imaginative re-telling of a human one, about young people, their adventures and achievements, the desert and its terrors; above all the past and its gifts to us in the present.
Information
Format: Paperback / softback
Pages: 213 pages, b/w pls
Publisher: Libri Publications Ltd
Publication Date: 29/01/2000
Category: Biography: general
ISBN: 9781901965025
Free Home Delivery
on all orders
Pick up orders
from local bookshops