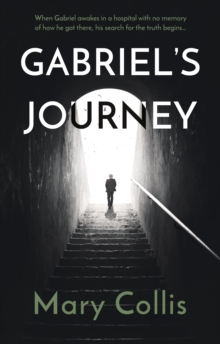 Gabriel's Journey
Paperback / softback
Description
When Gabriel awakes in a hospital bed with no recollection of how he got there or why he is there, and is discharged into the care of an unknown Japanese woman, he is desperate to make sense of the situation.He suspects that the answers must lie somewhere within the complexities of his unorthodox past.
Gabriel's past adventure-loving and hedonistic lifestyle is re-lived and revealed to the reader in his dreams.
Through the narrations of his dreams the reader is transported into the personal world and transitory romantic relationships of a narcissistic personality, travelling with him across time and continents and entering his world of perceived espionage and conspiracy.
These dreams of times past are woven seamlessly into the contrasting dramatic reality of Gabriel's present-day life.
The story creates a credible picture of Gabriel's enforced imprisonment and of his epic battle to regain his freedom, escaping into the obscurity of London's warren of streets and formulating complex, detailed plans which include assuming a new identity.
The story is crafted around Gabriel's magnetic and influential personality which draws others to both believe him and collude with him and his ability to create a clever, subtle and elaborate camouflage to obscure the reality of his situation.
Information
Format: Paperback / softback
Pages: 200 pages
Publisher: Book Guild Publishing Ltd
Publication Date: 03/05/2018
ISBN: 9781912362332
Free Home Delivery
on all orders
Pick up orders
from local bookshops