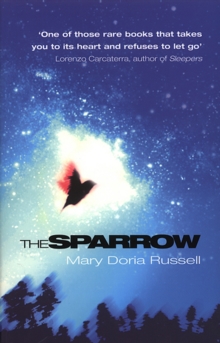 Description
Set in the 21st century - between 20 and 60 years from now - The Sparrow is the story of a charismatic Jesuit priest and talented linguist, Emilio Sandoz, who - in response to a remarkable radio signal from the depths of space - leads a scientific mission to make first contact with an extraterrestrial culture.
In the true tradition of Jesuit adventurers before him, Sandoz and his companions are prepared to endure isolation, suffering - even death - but nothing can prepare them for the civilisation they encounter, or for the tragic misunderstanding that brings the mission to a devastating end.
Once considered a living saint, Sandoz returns alone to Earth horrifically maimed, both physically and spiritually, the mission's sole survivor - only to be blamed for the mission's failure and accused of heinous crimes. Written in clean, effortless prose and peopled with memorable, superbly-realised characters who never lose their humanity or humour, The Sparrow is a powerful, haunting fiction - a tragic but ultimately triumphant novel about the nature of faith, of love and what it means to be 'human'.
Information
Format: Paperback
Pages: 512 pages
Publisher: Transworld Publishers Ltd
Publication Date: 01/11/1997
Category: Science fiction
ISBN: 9780552997775
Free Home Delivery
on all orders
Pick up orders
from local bookshops
Reviews
Showing 1 - 5 of 21 reviews.
Previous | Next
Review by wyvernfriend
16/06/2015
I'm a bit ambivalent about this book, it is quite a good read and I'm not sorry I did but it's a bit of a trudge through some parts, although those parts are actually plot-important.My favourite sequence is: "'Sometimes,' he told her... I begin with songs. They provide a sort of skeleton grammar for me to flesh out. Songs of longing for future tense, songs of regret for past tense, songs of love for the present.'..."'Isn't that interesting,' she said..., 'I do the same thing. Have you noticed that llullabies nearly always use a lot of command form?'"A worthwhile read, just not something I'd probably read again, tho it is going into a pile to reconsider after I read the sequel.
Review by bookwormteri
16/06/2015
A new planet is discovered and a crew is sent out to meet and befriend the aliens, but only one returns alive. What could have happened to these people on this planet? An amazing book, a must read. I am not huge into sci-fi so some of the technical stuff was a little beyond me, but I loved the interpersonal relationships in this book.
Review by VioletDelirium
16/06/2015
Written from an anthropologist's pov, this book knocked my socks off. I liked it a great deal more than I expected. Beautifully written characters and a depth of plot and development that made me exceedingly happy. Highly recommend it. However, after reading an interview with the author, I won't be reading the sequel.
Review by amareshjoshi
16/06/2015
I found the book disappointing. After the discovery of radio signals (songs) from a nearby star (eight light years away) a group of people is sent to explore and meet the aliens. The trip is financed by the Society of Jesuits and the crew consists of four priests and 4 laymen. The book book flips back between the time of expedition and the recovery of the soul survivor, on ofthe priests, back on earth after he's rescued by a second mission (UN funded this time). I found the premise was silly. The Jesuits funded and sent the mission in secret because they have a history of exploration (okay) and because a few months after first receiving the alien signals other people on eart had lost interest!The dialog between the characters is terrible. It is supposed to be humorous but is corny and not funny. The science is terrible, the technology and its usage isunrealistic. A disappointing read.
Review by carolt01
16/06/2015
She gives credit to Dorothy Dunnett - after reading Dunnett, Russell owes even more credit to her.