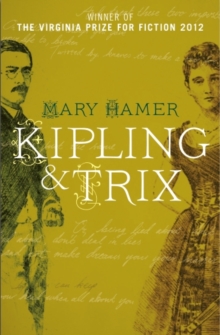 Description
***Winner of the Virginia Prize for Fiction*** As small children, Rudyard Kipling and his sister Trix lived an enchanted life in India playing with their beloved servants and running around freely.
Their innocent happiness came to an abrupt end when they were sent back to England to live with strangers and forced to conform to the strict rules of Edwardian society in an alien country.
Both brother and sister grew up to become writers, although one lived in the shadow of the other's genius.
Rudyard Kipling's incredible life is known to many while his poetry and books have been read by millions a " but what became of his talented younger sister?
Her story, full of love and lies, became a distressing family secret that was hidden from the world...Mary Hamer has unearthed the truth about Alice Kipling, known to her family affectionately as Trix.
In this fictionalised account of their lives, the author goes to the heart of the relationship between a difficult brother and his troubled sister and explores how their early lives shaped the very different people they were later to become.
Information
Format: Paperback
Pages: 368 pages
Publisher: Aurora Metro Publications
Publication Date: 10/10/2012
Category: Historical fiction
ISBN: 9781906582340
Free Home Delivery
on all orders
Pick up orders
from local bookshops
Reviews
Showing 1 - 1 of 1 reviews.
Review by katylit
27/08/2015
Rudyard Kipling has always been a hero of mine. He always struck me as a complex, talented man who lived during a dynamic period of British history. I couldn't wait to delve into Kipling and Trix, to read a fictionalized, albeit meticulously researched, account of the great writer and his sister, from their troubled beginnings through to adulthood. I was not disappointed. Mary Hamer reveals two complicated siblings who endure together an extended period of exile from their parents, a passion for story telling and writing and a never ending desire for recognition and acceptance. I found the story a bit disjointed at times, sometimes jumping to different periods of time without a clear indication of when events were taking place. Nontheless, it is a compelling tale of fascinating, talented, and often tortured individuals. I learned a lot, especially about Trix Kipling and found it a very enjoyable read.