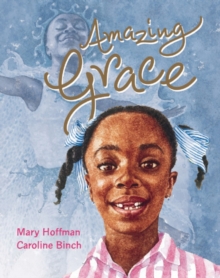 Description
Grace loves to act out stories. Sometimes she plays the leading part, sometimes she is 'a cast of thousands.' When her school decides to perform Peter Pan , Grace is longing to play Peter, but her classmates say that Peter was a boy, and besides, he wasn't black...
But Grace's Ma and Nana tell her she can be anything she wants if she puts her mind to it...
Information
Format: Paperback
Pages: 32 pages
Publisher: Frances Lincoln Publishers Ltd
Publication Date: 01/10/2007
Category: Picture books
ISBN: 9781845077495
Free Home Delivery
on all orders
Pick up orders
from local bookshops
Reviews
Showing 1 - 5 of 7 reviews.
Previous | Next
Review by Trina08
16/06/2015
This book is a good book for elementary school to learn about diversity and gender roles. It is a interesting story about a girl who wants to be peter pan in school play but her classmates think she can't because she is a girl. This is a goo story to show students to stick to there dreams.
Review by Vanessa.B.
16/06/2015
Summary: Grace is a young African American girl with a wonderful imagination. She loves to create stories and act them out. Her teacher announces the classes upcoming play of Peter Pan, Grace wants to be Peter but is hurt by her classmate's reactions. Her classmates believe that since she is a girl and black she can't be Peter (the lead in the play). Grace is saddened by this; she goes home and explains this to her mother and grandmother. They support Grace and inspire her to have the confidence to do what she wants. Grace's audition is amazing and gets the role of Peter for the play.Personal Reflection: This book is inspiring with great pictures. This book is great for classrooms. It can be used to talk about dreams, inspiring students and encouraging students. Classroom Extension Ideas:1)Have the class write about a time when they were told they couldn't do anything but overcame it.2)Have the class talk about someone or something that inspired them to do something they never thought they could accomplish.
Review by E.OB
16/06/2015
The story of Grace covers many different hidden topics but the most obvious issue at hand would be that she was told she couldn't do something because of the color of her skin. Did she let this stand in her way? No, as her mother and grandmother had told her that if she puts her mind to something she can achieve anything she wanted to do. This is a great lesson to tell children, it gives them the motivation that is needed in life today. This book is a great example of how not to let anyone tell you that you can't do something and to keep trying.
Review by RachelPeterson
16/06/2015
"Amazing Grace" is a wonderful book about a young, black girl who loves stories. When her class puts on a play of Peter Pan she wants to be Peter but her classmates put her down because she is black and a girl. Grace ends up getting the role of Peter. It deals with prejudice in a relatable and age appropriate way. It is a well written book with beautiful illustrations. This book is great for upper elementary students.
Review by ababe92
16/06/2015
I really liked this book because it so creative, and this would be a great book for my ELL students to read because hopefully they would get sparks of creativity from this book, I would read this book to my class because I love the pictures so much.