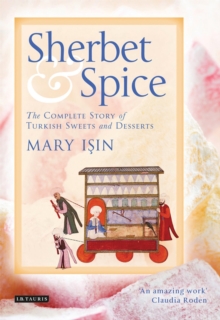 Sherbet and Spice : The Complete Story of Turkish Sweets and Desserts
Hardback
Description
The stories behind Turkey's huge variety of sweets and puddings are as fascinating as their multiplicity of flavours.
This riveting exploration of their history and role in Turkish culture is a voyage of adventure, taking us from the sultan's palace to the homes of ordinary people in Turkey's villages and towns, and beyond to Central Asia, Persia, Arabia, Egypt and the Levant.
This is the land of Turkish delight perfumed with rosewater and musk, rose jam, whose praises were sung by Rumi, asure, zerde tinted with saffron, baklava filled with nuts, clotted cream or cheese, milk puddings and helvas, strings of nuts dipped in grape syrup, lollipops in the shape of animals and model gardens built of sugar carried in wedding processions.
The first study of Turkish confectionery ever to be published, Sherbet and Spice offers a rare look at the evolution of sweets from the non-European angle, based on many Turkish sources little known outside Turkey that lend a new dimension to the subject.
Information
Format: Hardback
Pages: 336 pages, 14 colour in 16pp colour plates, 38 bw integrated
Publisher: Bloomsbury Publishing PLC
Publication Date: 07/11/2012
Category: Desserts
ISBN: 9781848858985