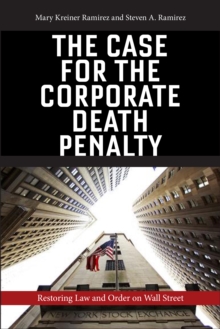 The Case for the Corporate Death Penalty : Restoring Law and Order on Wall Street
Hardback
Description
A critical examination of the wrongdoing underlying the 2008 financial crisisAn unprecedented breakdown in the rule of law occurred in the United States after the 2008 financial collapse.
Bank of America, JPMorgan, Citigroup, Goldman Sachs, and other large banks settled securities fraud claims with the Securities and Exchange Commission for failing to disclose the risks of subprime mortgages they sold to the investing public.
But a corporation cannot commit fraud except through human beings working at and managing the firm.
Rather than breaking up these powerful megabanks, essentially imposing a corporate death penalty, the government simply accepted fines that essentially punished innocent shareholders instead of senior leaders at the megabanks.
It allowed the real wrongdoers to walk away from criminal responsibility.
In The Case for the Corporate Death Penalty, Mary Kreiner Ramirez and Steven A.
Ramirez examine the best available evidence about the wrongdoing underlying the financial crisis.
They reveal that the government failed to use its most powerful law enforcement tools despite overwhelming proof of wide-ranging and large-scale fraud on Wall Street before, during, and after the crisis. The pattern of criminal indulgences exposes the onset of a new degree of crony capitalism in which the most economically and political powerful can commit financial crimes of vast scale with criminal and regulatory immunity.
A new economic royalty has seized the commanding heights of our economy through their control of trillions in corporate and individual wealth and their ability to dispense patronage.
The Case for the Corporate Death Penalty shows that this new lawlessness poses a profound threat that urgently demands political action and proposes attainable measures to restore the rule of law in the financial sector.
Information
Format: Hardback
Pages: 288 pages
Publisher: New York University Press
Publication Date: 31/01/2017
Category: Criminal law & procedure
ISBN: 9781479881574
Free Home Delivery
on all orders
Pick up orders
from local bookshops