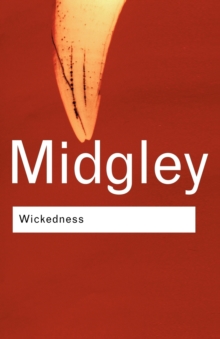 Wickedness : A Philosophical Essay
Paperback
Description
To look into the darkness of the human soul is a frightening venture.
Here Mary Midgley does so, with her customary brilliance and clarity.
Midgley's analysis proves that the capacity for real wickedness is an inevitable part of human nature.
This is not however a blanket acceptance of evil. Out of this dark journey she returns with an offering to us: an understanding of human nature that enhances our very humanity.
Free Home Delivery
on all orders
Pick up orders
from local bookshops
Reviews
Showing 1 - 1 of 1 reviews.
Review by kant1066
16/06/2015
Religious thought, and especially the formalizing aspects of theology, can have the effect of what I call "theologizing the natural." When you theologize the natural, you take a perfectly earthly, human, natural occurrence or state and you attribute it to a higher power or function. This is what has essentially been done with the problem of human evil, or as Midgley calls it to avoid these overtly theological implications, "wickedness." Instead of looking at the motivations for human behavior, we look for causes of "sin," or transgressions against the will of God (note the religiously loaded language). Midgley thinks morality and wickedness are human phenomena. One of the strongest things this book has going for it is that it fights again this theologizing, and looks at human behavior for what it is.One of points Midgley drives home from the very beginning is that we need to stop seeing wickedness in a Manichean way, as the opposite of goodness. Rather, it needs to be envisioned as a lack of certain capacities: we need "to think of wickedness not primarily as a positive, definite tendency like aggression, whose intrusion into human life needs a special explanation, but rather as negative, as a general kind of failure to live as we are capable of living." For emphasis, and she does emphasize this point, she wants to see evil not as something that is present, but rather something that is absent: a "general denial and rejection of positive capacities" (p. 16).She's just as interested in combating the idea of moral skepticism, that is to say the idea that moral problems as such might not even exist, or if they did exist, that they would not have solutions. Due to the difficulty of moral problem-solving, many solutions (Midgley calls them "overly romanticized solutions") have been proposed, the most popular of which has been the skepticism that there is no possibility of addressing these problems. But even Nietzsche (commonly and incorrectly regarded as an "immoralist") knew that such problems existed, and that if there was something even resembling a slight unity in human motive, that they could be adequately answered. Midgley assumes that we can answer these questions because there is something about the nature of human behavior that makes it, for the most part, reliable and predictable. So she assumes a kind of sort determinism (as opposed to the hard kind, which is often assumed to be the position of many natural scientists) and says that these problems can in fact reconcile ourselves to moral problem-solving. More importantly, being able to predict moral behavior does not threaten the possibility of human freedom since we live in a world rife with contingency. We often try to see wickedness as having one kind of cause, but she wants to argue against this, too. Perhaps one of the more popular causes of human wickedness is aggression. But while aggression is a tendency to attack, it's not always a violent or destructive one. Aggression no more implies destructiveness than having a foot means wanting to kick someone else. Aggression itself might be the root of some evil, especially if uncontrolled; however, controlled aggression is essential to proper socialization and many other human processes. To imagine a world without aggression (or fear – another emotion commonly reputed to be the source of much evil) – would be to live in a Utopia where we were disconnected from our humanity, if only because our brain chemistry would need to be drastically altered.In the end, Midgley ends up looking like a certain kind of Aristotelian, at least insofar as she thinks that wickedness is related the incapacity or unwillingness to live in accordance with true human nature. She spends a lot of time arguing against certain strains in contemporary moral thought (reductionism, skepticism, et cetera), but ends up with I've always thought was a rather attractive and convincing idea: that thinking through moral problems involves a set of certain capacities including but not limited to empathy, compassion, and understanding which enable real self-understanding and self-realization without which we cease both to be able to know these problems and to offer rational, reasonable, secular solutions to them.
Also in the Routledge Classics series | View all