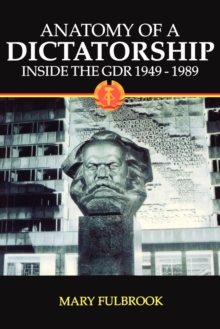 Anatomy of a Dictatorship : Inside the GDR 1949-1989
Paperback / softback
Description
Founded on the ruins of Hitler's defeated Third Reich, and lacking any intrinsic legitimacy, the German Democratic Republic nevertheless became the most stable and successful state in the Soviet bloc.
Yet in the 'gentle revolution' of 1989 it collapsed with startling speed.
How can this extraordinary story of political stability followed by sudden implosion be explained? With the opening of the East German archives, it is at last possible to look inside the apparently impregnable dictatorship.
Mary Fulbrook provides a compelling interpretation of structures of power and patterns of popular opinion within the GDR.
This absorbing study explores the ways in which the tentacles of the all-pervading state captured East German society in the grip of the Stasi, party, and mass organizations, and analyses the emergence in the 1980s of oppositional cultures under theambivalent shelter of a Protestant Church which had come to terms with the communist state.
In combining careful archival research with broader theoretical and historical interpretation, Anatomy of a Dictatorship makes a major contribution to debates on recent German history and the character ofcontemporary Germany.
Information
Format: Paperback / softback
Pages: 324 pages
Publisher: Oxford University Press
Publication Date: 01/11/1997
Category: European history
ISBN: 9780198207207