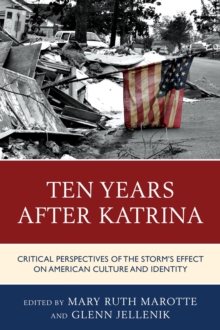 Ten Years after Katrina : Critical Perspectives of the Storm's Effect on American Culture and Identity
Paperback / softback
Description
Hurricane Katrina blasted the Gulf Coast in 2005, leaving an unparalleled trail of physical destruction.
In addition to that damage, the storm wrought massive psychological and cultural trauma on Gulf Coast residents and on America as a whole.
Details of the devastation were quickly reported-and misreported-by media outlets, and a slew of articles and books followed, offering a spectrum of socio-political commentaries and analyses.
But beyond the reportage and the commentary, a series of fictional and creative accounts of the Katrina-experience have emerged in various mediums: novels, plays, films, television shows, songs, graphic novels, collections of photographs, and works of creative non-fiction that blur the lines between reportage, memoir, and poetry.
The creative outpouring brings to mind Salman Rushdie's observation that, "Man is the storytelling animal, the only creature on earth that tells itself stories to understand what kind of creature it is." This book accepts the urge behind Rushdie's formula: humans tell stories in order to understand ourselves, our world, and our place in it.
Indeed, the creative output on Katrina represents efforts to construct a cohesive narrative out of the wreckage of a cataclysmic event.
However, this book goes further than merely cataloguing the ways that Katrina narratives support Rushdie's rich claim.
This collection represents a concentrated attempt to chart the effects of Katrina on our cultural identity; it seeks to not merely catalogue the trauma of the event but to explore the ways that such an event functions in and on the literature that represents it.
The body of work that sprung out of Katrina offers a unique critical opportunity to better understand the genres that structure our stories and the ways stories reflect and produce culture and identity.
These essays raise new questions about the representative genres themselves.
The stories are efforts to represent and understand the human condition, but so are the organizing principles that communicate the stories.
That is, Katrina-narratives present an opportunity to interrogate the ways that specific narrative structures inform our understanding and develop our cultural identity.
This book offers a critical processing of the newly emerging and diverse canon of Katrina texts.
Information
Format: Paperback / softback
Pages: 262 pages, 6 Halftones, black and white; 3 Illustrations, black and white
Publisher: Lexington Books
Publication Date: 30/08/2016
Category: History of the Americas
ISBN: 9781498508803
Free Home Delivery
on all orders
Pick up orders
from local bookshops