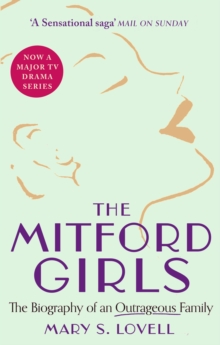 The Mitford Girls : The Biography of an Extraordinary Family
Paperback
Description
THE MITFORD GIRLS tells the true story behind the gaiety and frivolity of the six Mitford daughters - and the facts are as sensational as any novel: Nancy, whose bright social existence masked an obsessional doomed love which soured her success; Pam, a countrywoman married to one of the best brains in Europe; Diana, an iconic beauty, who was already married when at 22 she fell in love with Oswald Moseley, the leader of the British fascists; Unity, who romantically in love with Hitler, became a member of his inner circle before shooting herself in the temple when WWII was declared; Jessica, the family rebel, who declared herself a communist in the schoolroom and the youngest sister, Debo, who became the Duchess of Devonshire.This is an extraordinary story of an extraordinary family, containing much new material, based on exclusive access to Mitford archives.
Information
Format: Paperback
Pages: 624 pages, Section: 24, B&W
Publisher: Little, Brown Book Group
Publication Date: 18/07/2002
Category: Biography: general
ISBN: 9780349115054
Free Home Delivery
on all orders
Pick up orders
from local bookshops
Reviews
Showing 1 - 4 of 4 reviews.
Review by herschelian
16/06/2015
The six Mitford sisters were born into an aristocratic English family between 1904 and 1920. They had an unconventional, some might say eccentric, childhood and adolescence with no formal education of any kind but all grew up to be well known as individuals. Nancy, the eldest, was a highly regarded novelist and biographer of Madame de Pompadour and Louis IVX, who spent the later half of her life living in Paris; she also wrote wonderfully sharp and witty articles on English manners and mores, coining the phrase "Non-U". Pamela the most domesticated of them all, was the sister with whom John Betjeman fell in love. Diana, the elegant beauty who first married a member of the Guiness family, and then fell in love with and married Sir Oswald Mosley M.P., leader of the British Union of Fascists,she became a figure of hate, imprisoned for supporting the BUF. The middle daughter, Unity, an unstable young woman who went to Germany in the 1930s, was in love with Hitler and totally obsessed with Nazism. When war was declared she shot herself. Next in line was Jessica - always known as Decca - who eloped at 19 and went off to fight fascism in the Spanish Civil War where her husband died. She then married an American and became a member of the Communist Party and active in the Civil Rights movement - she too, like Nancy, became a writer of some reknown. Finally there was the beautiful Deborah who married the Duke of Devonshire and became chatelaine of Chatsworth, one of the greatest houses in England. Their lives have been covered partially and individually several times by other writers, but Mary Lovell has managed to write about them in the context of their sisterhood, yet giving a clear picture of each of these rather extraordinary women. An absolutely fascinating read.
Review by fizzy_fizz1
16/06/2015
This book got my mind going. I was not aware how the lives of one family could be so entwined with opposing sides of world politics in the 20th centuary
Review by cathymoore
16/06/2015
I came across this book completely by chance, it is very far removed from what I normally read. I was really quite pleasantly suprised. Before reading I had vaguely heard of Nancy Mitford, now I am interested to learn more about this fascinating family, their lives and politics. This comes across generally as a well-balanced, well researched biography. There were occasions where the authors fondness for her subjects coloured her views of their politics; particulaly Diana and Unity and their relationships with Mosely and Hitler respectively. Although perhaps I need to read more on the subject to be better informed myself.
Review by nigeyb
16/06/2015
Before reading "The Mitford Girls: The Biography of an Extraordinary Family" by Mary S. Lovell, I had already read Hons and Rebels: The Classic Memoir of One of Last Century's Most Extraordinary Families by Jessica Mitford, Decca: The Letters of Jessica Mitford, and the first two novels by Nancy Mitford. Mary S. Lovell does an extraordinary job of condensing down the lives of the Mitford girls, their parents, their brother, and numerous partners, children, grandchildren, and various other notable relatives, all of which takes place against some of the most momentous historical moments of the twentieth century. In a sense the family's story mirrors that of the century they lived in. The parents known to their children as Muv and Farve, aka Lord Redesdale and his wife Sydney, represent the early twentieth century aristocracy. Both, to varying degrees are appalled by the changes wrought throughout the 1920s and the emergence of the post-WW1 generation of young people, dubbed Bright Young Things, who erupted into society determined to change the world for the better now once the war to end all wars was over. Oldest daughter, Nancy, and her arty friends were an anathema to her father.Three of the daughters were split across the two political ideologies that wreaked havoc on the twentieth century: Unity (who unbelievably was conceived in a Canadian town called Swastika) and Diana both being unapologetic fascists, and Jessica (aka Decca) a staunch communist. Not only were Unity and Diana fascists but both formed a close friendship with Hitler and other leading Nazis in pre-WW2 Germany, and Diana married British fascist leader Oswald Mosley. Shortly after Britain declared war on Germany Unity unsuccessfully tried to kill herself, and Decca ran away to help the Republican cause in Spain during the Spanish Civil War. These events, along with Nancy's success as a writer, are what make this book so fascinating for anyone interested in this era. I was slightly less interested in the early childhood years, and in the post-WW2 era. After the war, the book details how each life played out. This is all worth reading but of less interest to me than the extraordinary events detailed in the 1930s and 1940s.All told though, a very interesting biography, with plenty of conflict (both familial and global) to keep the story moving forward.