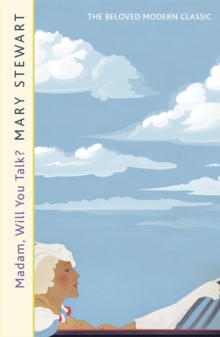 Madam, Will You Talk?
Paperback
Description
'A comfortable chair and a Mary Stewart: total heaven.
I'd rather read her than most other authors.' Harriet EvansIt sounds idyllic: a leisurely drive through the sun-drenched landscape of Provence.
But Charity's dream holiday turns into a nightmare when she becomes embroiled in a sinister plot to kidnap a young boy.
She soon finds herself in a deadly pursuit and must uncover who to trust ...and who to fall for.
Whenever I look back now on the strange and terrifying events of that holiday in Southern France, I remember the minutes I spent gazing at the golden arches of the Roman aqueduct over the Gardon...the last brief lull before the thunder.
Information
Format: Paperback
Pages: 320 pages
Publisher: Hodder & Stoughton General Division
Publication Date: 01/02/2011
Category: Crime & mystery
ISBN: 9781444711202
Free Home Delivery
on all orders
Pick up orders
from local bookshops
Reviews
Showing 1 - 2 of 2 reviews.
Review by shanaqui
16/06/2015
Mary Stewart appears to have become my go-to read for when I want a nice, long soak in the bath. I feel horrendously girly reading her romances -- but at least they're also mysteries, too? Madam, Will You Talk? is more or less a typical offering from Mary Stewart, with more than a hint of danger about it, with the comforting feeling that because of the genre, and the author, it's all going to be alright.<br/><br/>I'm not an enormous fan of the hero of this book: sorry, gripping a woman's wrist so tightly you leave bruises, calling her filthy names, and chasing her across the country, when she's clearly frightened and desperate just <I>isn't sexy</I>. Or a good basis for a hasty marriage at the end (I could spoiler-cut this, but it's a Mary Stewart book: you guessed it already). And, you know, outbursts of blind rage aren't made okay just because they occurred <spoiler>when you witnessed the murder of a Jew during WWII (though of course that does make everything okay for some people, because hey, it was <I>justified</i>)</spoiler>. If someone admits to having murderous rages, by god I'm going to side-eye him pretty hard however justified he thinks he is.<br/><br/>Actually, I was rather rooting for the police detective when it came to the last few pages, but of course he'd been too much of a non-entity up to that point. I can't deny that I do like a bit of mysterious-bond-draws-people-together-despite-enmity, but in this case, gah, not so much.<br/><br/>The story is, of course, ridiculous, in the sense of one of those hopelessly tangled, overwrought plots, and my biggest feelings were actually about Charity's late husband -- her grief and love when it came to him were the most convincing bit of it, to me. But it's Mary Stewart, and I wasn't expecting anything less. Don't think I'd recommend starting on this one, though.
Review by rainpebble
16/06/2015
Madam, Will You Talk? by Mary Stewart; (3*)Our protagonist is WWII war widow Charity whose holiday in France becomes life changing. It starts with a large dog and a young & troubled boy in Avignon and progresses with a suspicious step-mother, an Englishman who reads poetry and a much too handsome Frenchman via a thrilling car chase to a man who had been accused, but acquitted, of murder and is desperate to connect with his son in spite of others attempts to prevent it.The story starts off peacefully but the reader knows that things are going to change quickly as all the players are in place. Stewart's writing is incredibly visual. Her sense of place is vivid to the point that you feel the heat and smell the flowers. Her use of analogy is wonderful. With only a few words, you know who these characters are. Charity is a strong, smart and very capable character. Her friend, Louise, plays a minor role but is memorable in her own right. Stewart has drawn a lovely character in the boy, David. She creates and builds the suspense, but adds just a subtle, mostly off-scene, bit of romance to make a wholly satisfying read. Even the chapter headings add to the story. This book was an absolute pleasure to read, as are most of Mary Stewart's works. Her books make perfect summer reading.