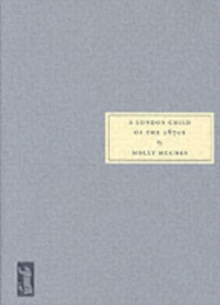 A London Child of the 1870s
Paperback
Information
Format: Paperback
Pages: 192 pages, Illustrations
Publisher: Persephone Books Ltd
Publication Date: 22/11/2005
Category: Biography: general
ISBN: 9781903155516
Free Home Delivery
on all orders
Pick up orders
from local bookshops
Reviews
Showing 1 - 3 of 3 reviews.
Review by VioletBramble
16/06/2015
The first in a series of three memoirs. This is the only one re-published by Persephone.Molly Hughes writes of her suburban London Victorian family in the 1870s. In this first book she describes her happy childhood, growing up with her 4 brothers. She describes outings in London and holidays with her mothers family in Cornwall. Hughes notes details when describing people, places and things that make the story come alive.The foreward by Adam Gopnik tells the real, not so happy, story of what happened to her family. Recommended.
Review by Kasthu
16/06/2015
A London Child of the 1870s is a collection of remembrances of the author's life, living in suburban London in the 1870s. Molly Hughes, nee Thomas, was born in 1866 and grew up in the company of four older brothers.The whole tone of the book is very nostalgic, a kind of "what had been" about Hughes's early life, looking back on it fifty years on, sometimes comparing "then with "now." And the book is very sentimental in many places, the author fudging a bit at the end the circumstances of her father's death. And yet it's a very, very funny collection of remembrances, covering everything from trips to Cornwall to visit relatives to what was read on Sundays when no "fun" books were allowed ("Again and again I turned to something entitled The Dark Journey, only to find that it was an account of one's digestion. You may wonder why I did this more than once, but I always hoped that I had been mistaken, and that such a splendid title must mean a good story. No, there was still that forbidding picture of one's insides cut through the middle" (p. 86)). Hughes's book isn't exactly told from the point of view of herself as a child, but I think this is a very readable account of a middle-class family of the period. However, as a side note, I didn't much care for Adam Gopnik's Preface--I've always found his writing to be rather self-centered and pretentious. Somehow he manages to make this Preface all about himself and his experience living on the Upper East Side of New York City in the '80s, an area of the city which he manages to make sound like a third-world country.After Molly Hughes's father died in 1879, her life became very difficult indeed; her family was left with very little money and so the five children of the family were forced to go to work (Molly went to the Cambridge Training College—later called Hughes Hall and incorporated into Cambridge University—and became a teacher). Later, both her husband and young daughter died and so there was always a sense of sadness about her life. And yet Hughes managed to live to the age of ninety, so one has to think that she must have been a very strong, resilient woman indeed.A London Child of the 1870s (previously published as A London Child of the Seventies) is the first book in a trilogy that continues with A London Girl of the 1880s and A London Family in the 1890s (though this of course is the only one of the three that Persephone has published. Despite my reservations about this book, I do wish that Persephone will someday publish the other two, as A London Child… is nonetheless an interesting read about "just an ordinary, suburban, Victorian family, undistinguished [themselves] and unacquainted with distinguished people."
Review by rainpebble
16/06/2015
A London Childhood of the 1870s by Molly Hughes; (4*)My thoughts and comments:I began this one in bed last night and now, well into it, I am absolutely charmed by this little memoir of 5 siblings told in the voice of the youngest & the only daughter of the family. Even though I grew up some 80 years later, my siblings like she & her brothers, made do with what we had for entertaining ourselves & learned a lot by doing so. We did not know it nor would we have agreed with that at the time. The remark that they benefited by their upbringing much more so that the wealthy children of that era really struck me and I think that perhaps she is quite right.This is a charming memoir and I was quite taken with it.