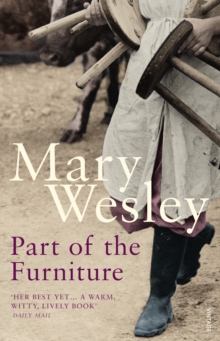 Part of the Furniture
Paperback
Description
Seventeen-year-old Juno Marlowe has just waved off to war the two young men she has loved for the best part of her life when the air raid sirens begin to wail out across London.
She is rescued from this nightmare by a gaunt stranger called Evelyn, frail and older than his years, who offers her the protection of his house and his family before dying suddenly in the night. Determined to avoid being sent to Canada to join her mother and new step-father, and still grieving for her lost lovers, Juno instead finds herself on a train to Cornwall in search of Evelyn's family.
There she discovers the blossoming of an English spring into which the war only occasionally intrudes and finds at last a peace for herlself and a world in which she is more than simply part of the furniture.
Information
Format: Paperback
Pages: 288 pages
Publisher: Vintage Publishing
Publication Date: 03/01/2008
ISBN: 9780099513056
Other Formats
EPUB from £4.99
Paperback from £6.55
Free Home Delivery
on all orders
Pick up orders
from local bookshops
Reviews
Showing 1 - 1 of 1 reviews.
Review by Luli81
16/06/2015
I don't know why but I had high expectations about this author. I hadn't read any of Wesley's novels before but I felt attracted to her stories, which seemed to be well crafted, accordingly to most of the reviews. Well, I'm a bit deflated, to tell the truth. The story: England, the Great World War. Juno is only 17, but already a misfit, appallingly innocent, left alone by her mother, who has remarried and fled to Canada, her father long dead and her cold aunt who doesn't care a bit for her. We meet Juno after leaving her two lovers on the train station, leaving to fight for their country. Abused and mistreated without even knowing it herself, Juno meets a dying young man during a bomb raid who leaves her the address of his family with a letter to be handed to his father, in a farm in Cornwall. Without nowhere else to go, she decides to hand in the letter and finds such a warm welcome that she is compelled to stay, feeling for the first time that she is not part of the furniture. I was hooked by the story; easy plot and fast paced, I finished the novel in just a couple of days. But I have to say that the characters lacked depth, personality and charm. How could a girl of 17 be so innocent? Juno seemed retarded sometimes, especially when talking about basic sexual aspects. She could be in the dark about the details but not about the whole thing. I think she wasn't developed enough as a character and that's why she seems to be a silly girl in several scenes of the book. Robert and Ann are just talked about when they fit in the story, we don't know much about them, apart from Robert being an excellent lover who lost his wife and Ann being a not happily married woman who craves for the child she never had. Moreover, the last chapter didn't help to improve my poor impression of the novel. What other reviewers have called a "twist" is for me an unfathomable outcome, too unbelievable to be realistic and therefore, only an easy way to shock the reader, with no intention to look for that bittersweet ache left after turning the last page of a really good novel.So, not an appalling reading, but not an exceeding one neither. I don't know if I'll be reading more Wesley's in the future, having Jude Morgan's, Susanna Kearsley's and Jenifer Donnelly's books yet to discover...