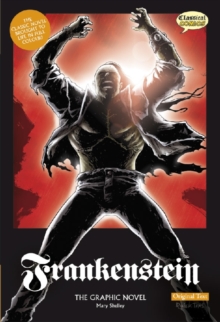 Frankenstein : Original Text
Paperback
Description
The classic novel brought to life in full color! 'Cursed be the hands that formed you'! True to the original novel, Declan Shalvey's naturally gothic artistic style is a perfect match for this epic tale. "Frankenstein" is such a well known title, yet the films strayed so far beyond the original novel that many people today don't realize how this classic horror tale deals with such timeless subjects as alienation, empathy and understanding beyond appearance.
This is another great story, beautifully crafted into a superb graphic novel.
Information
Format: Paperback
Pages: 144 pages, 545
Publisher: Classical Comics
Publication Date: 01/09/2008
Category: Classic horror & ghost stories
ISBN: 9781906332150
Other Formats
Paperback from £4.95
Hardback from £9.95
Free Home Delivery
on all orders
Pick up orders
from local bookshops
Reviews
Showing 1 - 3 of 3 reviews.
Review by eleanor_eader
16/06/2015
"His countenance expressed the utmost extent of malice and treachery."Of all the classic works of fiction, Mary Shelley's Frankenstein is probably the most suited for this sort of adaptation.* It's a brooding tale of mortality and the quest for the ultimate knowledge over life and death; it's a gothic horror masterpiece about longing and revenge and the need for companionship. It has weird pseudo-science and daring voyages and an enormous, unstoppable monster, which might well be a metaphor for something but which is, in the meantime, actually an enormous, unstoppable monster.And all that before you add the illustrations of men hollering 'AAARGH' and women exclaiming 'SHRIEK' (no, really). Aside from a little dumbing-down here and there, the artwork and glossy sleekness of this graphic novel are compelling. Even the purest of literary scholars would bend a little, on getting a whiff of the new paper and ink, and viewing the exquisite colours. Said purist could not even fault the text, which is largely (completely?) from the original story and made to work very well with the illustrated panels, although there is something a touch surreal about the modern / classic juxtaposition; maybe it's just that the artist has read one too many hulk comics.I'm a fan. I'm impressed at how this series brings a new format to classic literature; if it's purpose is to reach new readers, then it's seductive lines and accessible story-telling are marketing at its cleverest. The inclusion of additional information on the author, the Frankenstein's Monster's place in film and history, and even a breakdown of the graphic novel's page creation is a nice touch and lends the book a certain authenticity as a study-aid, and the solid weight and style speak to the quality of production.The graphic novel manages to largely capture the sadness, richness and fear of the original tale; I'd still rather read the original, but I'd want this on my shelf as well.*That said, I'm dying to get my hands on the graphic novel version of Great Expectations… what larks, Pip!
Review by pratchettfan
16/06/2015
Frankenstein like you've never read it before. The graphic novel contains the original text and brings it to live with fantastic and stunning artwork.
Review by andyray
16/06/2015
I gave the original-text novel already in my library a four-star, but these English publishers brought that up to a five-star? Why? Because the graphics are absorbing and can be viewed again and again. They change some in differently lighted places. Their editions are also offered in a precised original (Reader's Digest style), a modern language style. (One shudders to think). It's the best use of graphics I have hyet seen.
Also by Mary Wollstonecraft Shelley | View all