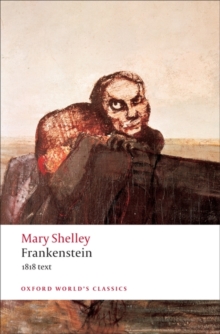 Frankenstein : or `The Modern Prometheus': The 1818 Text
Paperback
Description
Frankenstein was Mary Shelley's immensely powerful contribution to the ghost stories which she, Percy Shelley, and Byron wrote one wet summer in Switzerland. Its protagonist is a young student of natural philosophy, who learns the secret of imparting life to a creature constructed from relics of the dead, with horrific consequences.
Frankenstein confronts some of the most feared innovations of evolutionism: topics such as degeneracy, hereditary disease, and mankind's status as a species of animal. The text used here is from the 1818 edition, which is a mocking expose of leaders and achievers who leave desolation in their wake, showing mankind its choice - to live cooperatively or to die of selfishness. It is also a black comedy, and harder and wittier than the 1831 version with which we are more familiar.
Drawing on new research, Marilyn Butler examines the novel in the context of the radical sciences, which were developing among much controversy in the years following the Napoleonic Wars, and shows how Frankenstein's experiment relates to a contemporary debate between the champions of materialist science and of received religion. ABOUT THE SERIES: For over 100 years Oxford World's Classics has made available the widest range of literature from around the globe.
Each affordable volume reflects Oxford's commitment to scholarship, providing the most accurate text plus a wealth of other valuable features, including expert introductions by leading authorities, helpful notes to clarify the text, up-to-date bibliographies for further study, and much more.
Information
Format: Paperback
Pages: 336 pages
Publisher: Oxford University Press
Publication Date: 14/08/2008
Category: Classic fiction (pre c 1945)
ISBN: 9780199537150
Free Home Delivery
on all orders
Pick up orders
from local bookshops
Reviews
Showing 1 - 4 of 4 reviews.
Review by MeditationesMartini
16/06/2015
I'm gonna give you two ways in which this book is laughable bullshit, and then counter with two ways in which it's a stunning triumph.Bullshit 1: Stylistics. I know this was ground out over a summer by a girl who hadn't really written anything before and etc., etc., but there are a lot of rough freakin' passages in this story. I'm not going to quote the one I'd intended to. This is a bit of a half-assed review. I think she smoothed most of them out in the 1831 text anyway.Bullshit 2: On a related note, plot mechanics. Really, dude? You just couldn't take the time to make sure your monster didn't escape? You just ran away and assumed everything would be fine? You couldn't bring yourself to tell the truth, just so you could feel bad when they executed that poor girl? Even with the singular psychology and crazy madness of old Franko, that's pushing it a bit far. But the most ludicrous thing is that it never even occurred to him that "I will be with you on your wedding night" might possibly imply some threat to Elizabeth, as opposed to Victor the golden boy - like, I know it's a convention of the Gothic, but come on, are you writing a parable or are you writing psychological realism?Triumph 1: The central myth is so hard hitting. Like, that's why we've had a hundred Frankensteins since, although the "Adam" version has it all over the bolts-in-neck Karloff guy. Incidentally, am I crazy in remembering this as totally different from last time? Like, the ice, yes, the wedding night, yes, but I thought there was a lot more emphasis on the initial creation (castle, slab, roof opening, lightning, etc.) and the bride. Maybe I just read a movie novelization as a kid and mistook it for the real thing.Triumph 2: the psychological sketch of Frankenstein. He's not "misunderstood genius," that cliche - he's <i>understood</i> genius. He's supportive, brilliant, loving family, golden boy, always fulfilling everyone's high expectations, it's not about duty it's about the stifling quality of love for the egomaniac who still knows how to love. How hard did his going away to Ingolstadt remind me of me running away to Austria and then deciding that wasn't far enough from friends and family and it was gonna have to be Kazakhstan next? How creeping and sick is the realization that realism aside, this paragon basically, symbolically, strangled his own wife so he could feel bad about it and be tragic? How shivery is it when the monster is so much like him, in loves hates rage and misanthropy and the total inability to wrap himself up in humanity? I mean, in a general sense "the monster IS Frankenstein" is a filmic metonymy and an overall cliche, but when you look at it close, really: how much difference is there between Frankenstein creating his monster and Jekyll creating Hyde? Everything is permitted when you put on your mask of sutures and dead flesh. Kill them: then you can miss them, and carry on your important work in their name.
Review by rabbitrun
16/06/2015
Victor Frankenstein discovers the secret of creating life and fashions an eight-foot monster, only to bring danger and destruction to the lives of those he loves after the creature is rejected by society.
Review by slarsoncollins
16/06/2015
Wow. What a book. Just goes to show things aren't always black and white, but that there are many shades of gray in between. The story centers around Victor Frankenstein, a brilliant scientist, who creates life in his laboratory. Driven by an insatiable desire to bring back the spark of life, he is disgusted and repulsed by his final creation and casts the creature out. This hideous being, denied even the smallest show of kindness or love, pleads with his creator for a symbol of compassion. Again denied, the monster turns against his maker and a life and death struggle ensues. When I turned the final page (or clicked onto the final page), I was left wondering: Who is the real monster?
Review by Renz0808
16/06/2015
I have seen the numerous reproductions of the Frankenstein theme and I felt like I was rather familiar with the plot. Recently, I realized that I am a bit ashamed that I have yet to read this book for myself since along with Dracula it is considered such a classic horror story. I was so surprised as I started reading this book to find that all of the things I had thought about the story were actually wrong. This book is not so much about horror as it is about the basic human emotion for love and acceptance that we continually search for, and while the movies touch on this theme a bit the book is mostly about this thought. In a sense it is not so much horrifying as it is sad and disturbing, but the brilliance of the story is that it really makes you step back and look at yourself and what it means to be human. A Swiss medical student, Victor Frankenstein, discovers the secret of life and decides to build a man from various corpuses. He becomes horrified by what he creates and runs away from what he considers a monster. The creature suffers from a fair amount of confusion and neglect and begins to see himself as a terrifying monster. He is incredible smart and is able to teach himself language and means of communication through watching a poor family. He discovers the truth about his identity and begins to seek revenge on his creator. Through a series of tragic events Victor Frankenstein chases his creation around the world meaning to rid humanity from it.
Also by Mary Wollstonecraft Shelley | View all
Also in the Oxford World's Classics series | View all