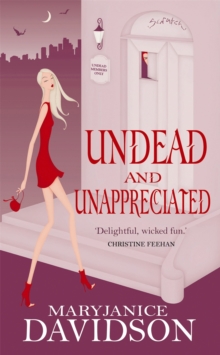 Undead and Unappreciated
Paperback
Description
Undead shopaholic Betsy Taylor has found that being vampire queen has more problems than perks.
It may be easy to find blood in the dark of night, but try finding a strawberry smoothie. And employees at her nightclub Scratch have been giving her nothing but grief since she killed their former boss. Some people...But Betsy's "life" takes an interesting turn at a baby shower for her wicked stepmother, who lets it slip that Betsy has a long-lost half sister. Now twenty years old, this girl just so happens to be the devil's daughter and destined to rule the world.
Information
Format: Paperback
Pages: 208 pages
Publisher: Little, Brown Book Group
Publication Date: 01/04/2006
Category: Horror & ghost stories
ISBN: 9780749936471
Free Home Delivery
on all orders
Pick up orders
from local bookshops
Reviews
Showing 1 - 5 of 5 reviews.
Review by scriberscouse
16/06/2015
This is the third of the Betsy Taylor Queen of the Vampires series and is the one that in my mind lives up to the howling hilarity of the first. The first two being Undead and Unwed (buy a copy of this immediately, but don't read on public transport unless you want to be stared at for losing control of your bladder) and the slightly meh Undead and Unemployed. Betsy is irascible as ever, she insists on trying not to drink blood, preferring coffee and trying to encourage her friends Jessica and Mark to eat things in front of her so she can enjoy the experience second hand. She's Evanovich's Stephanie Plum in vampire form; bumbling, well meaning and just a teensy bit not the sharpest tool in the shed. She's still stuck ruling the vampire world with sexy Eric Sinclair at her side, although their relationship must be improving as she resists calling him Finklair for this instalment. Betsy's unlife is about to get worse as her stepmonster Antonia is due to give birth to a new half brother or sister, and is characteristically snotty about Betsy attending the baby shower. Things really get messed up when Betsy learns that Antonia was pregnant before, the usual story girl meets married man tries to trap him into cementing the affair by getting pregnant...gets possessed by the Devil instead, gives birth to the Anti-Christ who is destined to dominate the world and then snaps to one day a year later and gives the baby up for adoption...you know how it goes. This instalment is a hoot, Betsy very unwisely reads the Book of the Dead and goes slightly Uber-Evul attacking her friends, getting down and dirty with Sinclair under the influence and finds herself having to make amends and track down a nefarious sibling and demi-evil, as well as deal with slacker employees striking at her vampire nightclub Scratch. Davidson delivers in spades in this one; the humour is witty, you just want to hug poor alienated Betsy and she handles the new addition of the Devil's daughter Laura really well. I love the fact that Laura is a perfect shiny and wholesome girl and that Betsy says she must be evil as she can eat tons of sugary snacks and not gain a single pound! Equally priceless is Betsy meeting the Devil for the first time and being deeply covetous of her shoes. This is brilliant, funny, romantic fluffy vamp chick lit at its finest and I can't wait for the newest ones to come out.
Review by Tudorrl
16/06/2015
I don't think I enjoyed this one quite as much as the last one - and I was a little put out by the fact its under 200 pages! What there was was fine and still quite funny, light stuff but I think given the price of books we could expect a little more value for money.....
Review by wyvernfriend
16/06/2015
During this book Betsy deals with her nightclub, finds a half-sister who is the daughter of the devil (the devil took over her stepmother's body for a while), goes to her stepmother's baby shower and deals with her romantic life with Sinclair and the other vampire politics.
Review by Rhinoa
16/06/2015
Betsy is back as Queen of the Vampires. She has acquired a club called Scratch but as she won't let the vampire staff bring their "sheep" or feed off the customers (or kill them!) the club is failing and looks like it will go bust. At the moment it's her only source of income so she begins to put her energies into rebuilding the clientelle.Her step mother, the Ant, is pregnant and when her father visits to make sure Betsy doesn't attend the baby shower he accidentally lets slip that the Ant had previsouly given a baby up at birth and Betsy has a half sister. The Book of the Dead has a prophecy about her as well, she is the daughter of the Devil and is due to bring about the end of the world. Betsy myst find her and make sure she doesn't...Betsy is sick of hearing about prophecys in an "oh by the way" fashion so she decides to read the Book of the Dead for herself. The problem is that if you read it for too long, you go mad. She reads for too long as predicted and becomes evil Betsy. She attacks her friends and has sex with Sinclair and has a lot of relationships to mend. She also manages to gain a new vampire superpower so it's not all bad.Another fun installment. These are a great light read, sex and the city meets vampires. I really like Betsy and her sense of humor. Jessica is a good character too and I am looking forward to spending more time getting to know her half sister Laura.
Review by lewispike
16/06/2015
Back to a much stronger story. Betsy has a half-sister. Her half-sister is in the Book of the Dead... which can't be good news.Betsy does some reading, which drives her temporarily insane, but there are some repercussions which aren't necessarily strongly handled, but are spelt out and are plausible.Betsy's half-sister is the daughter of Satan, but adopted by a priest, and comes over as the all-American bible-goer. But when she gets angry...There is also a wedding and a proposal as Betsy settles into life more fully and finally admits how she feels about Eric.
Also in the Undead/Queen Betsy series | View all