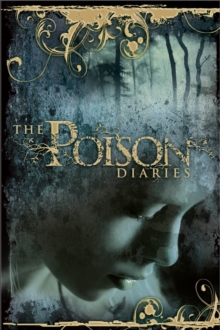 The Poison Diaries
Paperback
Description
A dark, gothic tale of romance... and murder.In the right dose, everything is a poison.Jessamine has spent her whole life in a cottage close to her father's apothecary garden, surrounded by medicinal plants and herbs that could kill her - although her father has never allowed her into the most dangerous part of the grounds... the poison garden. And so she's never had reason to be afraid - until now. Because now a newcomer has come to live with the family, a quiet but strangely attractive orphan boy named Weed.Though Weed doesn't say much in words, he has an instant talent for the apothecary's trade, seeming to possess a close bond with the plants of the garden.
Soon, he and Jessamine also share a close bond. But little does Jessamine know that passion can be just as poisonous as the deadliest plants in the garden - for behind Weed's instinctive way in the garden is a terrible secret.
The plants can talk to him - and not just the kind ones that can heal, but the ruthless ones that can kill too...
Information
Format: Paperback
Pages: 240 pages
Publisher: HarperCollins Publishers
Publication Date: 27/05/2010
Category: General
ISBN: 9780007354436
Other Formats
EPUB from £1.99
Paperback from £6.59
Free Home Delivery
on all orders
Pick up orders
from local bookshops
Reviews
Showing 1 - 3 of 3 reviews.
Review by gaskella
16/06/2015
The Duchess of Northumberland is the mastermind behind the wonderful Alnwick Garden adjoining her family's ancestral pile, Alnwick Castle, in Northumberland. I visited last year and found it a wonderful attraction. One of the (many) highlights of the Garden is the Duchess' special project – The Poison Garden. Every plant within is toxic, visitors can only go through the big locked gates bedecked with skull and crossbones, in small groups. While the gates are impressive, most of the plants within look rather ordinary, yet there is a thrill to be had from knowing their dangers!The Duchess had an idea for a book based on her garden and some historic stories of poisonings. Teen author Maryrose Wood wrote the book – and the result is The Poison Diaries, (which has a nice website here).The book has a great tagline "In the right dose, everything is a poison … even love." - so the scene is set for romance with a sting in the tail.Jessamine's father is a skilled apothecary. He is obsessed with finding out the botanical formulae to make a cureall which means he has little time for his daughter, he too has a poison garden kept behind locked gates into which Jessamine is forbidden to go. Jessamine who has grown up with just her father Thomas for company has had a hard and lonely life, but all this is about to change. Firstly, her father agrees to take on a helper. Weed – a wild and unruly orphan boy shows a natural, even supernatural, ability with plants, and Thomas begins to envy his skills. As time passes, Thomas can't avoid noticing that Jessamine is no longer a young girl but blossoming into a beautiful young woman; Weed has seen this too, and likewise, Jessamine is experiencing a stirring in her heart for Weed. Weed's skills with dangerous plants comes at a cost though, in his mind deadly Oleander is calling to him. I've been recommended this book by both adults and teenagers. Although you'll only find it in the teen section, I found it to be an excellent read, and challenging at times too – I love it that a YA novel can give enough substance to make it enjoyable for all readers. There were plenty of Shakespearean echoes, from Romeo and Juliet to Hamlet, and I learned a surprising amount about toxic plants along the way. I particularly liked the way the plants 'talked' to Weed – was it real, or was it just in his mind? This is the first in a planned trilogy. I hope the other two live up to the intoxicating promise of the first. (9/10) I bought this book.
Review by nicola26
16/06/2015
This was really good. The writing was beautiful, and it was so easy to read because it just flow perfectly. I really liked Jessamine- she was interesting and good at telling her story. I'm not really a fan of Weed. I think it was intended for the reader to feel sympathetic towards him, but I just couldn't. He was annoying and I found it impossible to connect to him, even when he narrated the story. It did start to ramble a bit at the end, but the twist definitely saved it. It was a fun and interesting read, different than anything I've read before.
Review by lcrabtree
16/06/2015
hmm...not what i normally read but it was good. Not sure if i will read the next in the series or not yet...