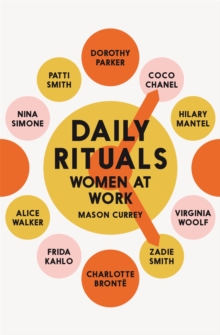 Daily Rituals Women at Work : How Great Women Make Time, Find Inspiration, and Get to Work
Hardback
Description
The much-anticipated follow-up to the acclaimed and resoundingly fascinating Daily Rituals. Filled with the innovative, inspiring and wonderfully prolific accounts of some of the world's best female creators, Daily Rituals: Women at Work is the powerful and championing sequel to Mason Currey's first book, Daily Rituals.
Barbara Hepworth sculpted outdoors and Janet Frame wore earmuffs as she worked to block out noise.
Kate Chopin wrote with her six children 'swarming around her' whereas the artist Rosa Bonheur filled her bedroom with the sixty birds that inspired her work.
Louisa May Alcott wrote so vigorously - skipping sleep and meals - that she had to learn to write with her left hand to give her cramped right hand a break. Filled with details of the large and small choices these women made, Daily Rituals: Women at Work is about the day-to-day lives of some of the world's most extraordinary creative minds who, whether Virginia Woolf, Charlotte Bronte, Nina Simone or Jane Campion, found the time and got to work. 'An admirably succinct portrait of some distinctly uncommon lives' Meryle Secrest
Information
Format: Hardback
Pages: 416 pages
Publisher: Pan Macmillan
Publication Date: 07/03/2019
Category: General arts
ISBN: 9781509852833
Other Formats
Paperback / softback from £9.39
Also by Mason Currey