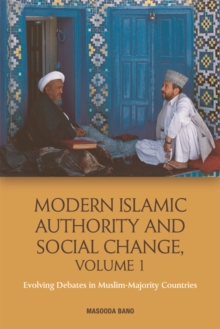 Modern Islamic Authority and Social Change, Volume 1 : Evolving Debates in Muslim Majority Countries
Hardback
Description
A comparative analysis of key Islamic authority platforms and their debatesAt the turn of the twenty-first century, scholarship and policy debate on Islam and Muslim societies has come to focus primarily on Islam's ability to make young Muslims gravitate towards anti-modernity movements.
Many attribute Islamic militancy, as well as the general socio-economic and political stagnation experienced in some Muslim societies, to Islamic theological or legal dictates.
Yet Islamic scholarly tradition is highly pluralistic, and today's leading Islamic authority structures are developing competing conceptual and methodological approaches which vary greatly in their ability to engage with societal change.This volume focuses on the four most influential Islamic authority structures with a visible following among Muslims around the globe.
It makes a major contribution to refining our understanding of the plurality of Islamic tradition in contemporary times, helping to counter the dominant narrative of an inevitable clash of civilisations.
It presents evidence of great creative energy within many Islamic scholarly platforms (old as well as new); an energy which aims to provide dynamic answers to modern day challenges from within the Islamic legal and theological tradition.Key featuresFocuses on four influential Sunni Islamic scholarly platforms with a global following: Al-Azhar (Egypt); Saudi Salafism (Saudi Arabia); Deoband (South Asia); Diyanet (Turkey)Each case study traces the institution's intellectual genealogy, contemporary political standing, and the discourses of its scholars on Islamic law and social change
Information
Format: Hardback
Pages: 368 pages
Publisher: Edinburgh University Press
Publication Date: 31/03/2018
Category: Islam
ISBN: 9781474433228
Free Home Delivery
on all orders
Pick up orders
from local bookshops