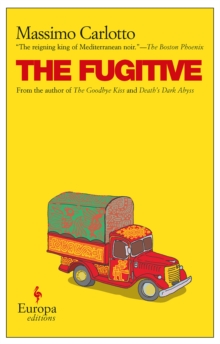 Information
Format: Paperback
Pages: 160 pages
Publisher: Europa Editions
Publication Date: 05/05/2007
Category: Crime & mystery
ISBN: 9781933372259
Free Home Delivery
on all orders
Pick up orders
from local bookshops
Reviews
Showing 1 - 2 of 2 reviews.
Review by shawnd
16/06/2015
This book was first written in 1994. It has only just been translated into English in 2006 and released in 2007. It was the first of three books written by this author -- the second two were released earlier in English and to more acclaim. As such, The Fugitive is a bit of an odd duck after the first two. However, if imagined to be first, it makes sense. The book is a true memoir by the author, not a fiction book as the second two were. The memoir is the author's first stab at writing an original work -- he was a translator in some of his jobs through his life -- basically an attempt to 'tell his story': an amazing story of legal and illegal acts as he tried to avoid prison and participate in the longest legal saga/trial in Italian history. I suspect this got him a footing as an author where, to his credit, he went on to write two substantial fiction works.The story on its face is amazing. Convicted for a crime he didn't commit, he goes through a series of trials and appeals. But before they can imprison him for a murder he didn't commit, he goes on the run. His time on the run makes up a good portion of the book. From places as diverse as the Mexican-Guatemalan border, Sardinia, Paris and more, Carlotto spends his time between wining and dining himself into a very obese man, having deep intellectual discussions with left-wing revolutionaries, and practicing a studious exercise of leaving no traces, avoiding any run-ins with police, and often up and disappearing leaving whole households behind. The fact that this was all funded by his apparently well-to-do parents makes the story a little less desperate, but definitely more humorous.Overall, I would recommend this book in most cases. To say this is a fast read is an understatement. It's more like this is a transcript of a 4 hour coffee conversation with the author. It reads like a diary or literally like a transcript of the guy telling his life story. In places it is laugh out loud funny; and in that way the humor reminded me a bit of Gogol's humor. However, the value is in the story, wit, humor, and sheer amazingness, as the writing itself is conversational.
Review by MurderMysteryMayhem
16/06/2015
In 1976 at the age of 19 Massimo Carlotto, a member of Lotta Continua a far left leaning political group, found the body of a murdered acquaintance which he dutifully reported to the authorities who immediately accused him of committing the crime. Carlotto was arrested, tried, and imprisoned beginning a very complicated legal battle where he was acquitted, retried, and reconvicted. In the course of all these legal troubles Carlotto decided to flee the country to live in exile as a fugitive from the law. The fight with Italy's legal system was to eventually cover 11 trials and lasted 18 years until his Presidential pardon in 1993.The Fugitive, Carlotto's first novel (really a memoir), is about his flight abroad to avoid further imprisonment. In short chapters that jump around in chronology, Carlotto relates stories about his life on the run. These stories are told in short bursts like the fleeting memories of a bad dream with just the strongest impressions passed on to the reader. The disorientation of being an "accidental fugitive" is palpable as Carlotto is usually in the company of other exiles in Paris and South America and in constant dread of being discovered. Carlotto's obsession with food, his health problems, fragile relationships, and the characters he builds to hide his identity all figure prominently. The book reads like a work of fiction and it is this life in the underworld that has given Carlotto a solid understanding of the people who inhabit it and probably provided much of the background material for his crime novels. The Fugitive is a very good place to start to understand this Italian writer.