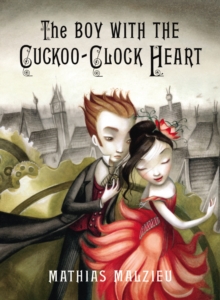 The Boy with the Cuckoo-clock Heart
Hardback
Description
Edinburgh, 1874. On the coldest night the world has ever seen, Little Jack is born with a frozen heart and immediately undergoes a life-saving operation.
But Dr Madeleine is no conventional medic and surgically implants a cuckoo-clock into his chest.
Little Jack grows up different to other children: every day begins with a daily wind-up.
At school he is bullied for his 'ticking', but Dr Madeleine reminds him he must resist strong emotion: anger is far too dangerous for his cuckoo-clock heart.
So when the beautiful young street-singer, Miss Acacia, appears - pursued by Joe, the school bully - Jack is in danger of more than just falling in love...he is putting his life on the line.
Information
Format: Hardback
Pages: 176 pages
Publisher: Vintage Publishing
Publication Date: 06/08/2009
ISBN: 9780701183691
Other Formats
EPUB from £7.99
eAudiobook MP3 from £11.72
Free Home Delivery
on all orders
Pick up orders
from local bookshops
Reviews
Showing 1 - 1 of 1 reviews.
Review by vernefan
16/06/2015
A Twirling Clockwork RomanceThe Boy With The Cuckoo-Clock Heart is one of those literary fairytale keepsakes that comes along only once in a life time. Brilliant, clever, ingenuity at it's best, truly a masterpiece destined to become a classic for many years to come. It is also a very difficult book to describe and doing it justice in a written book review is challenging, because the story is quite a simple one and an age old tale we've seen performed a thousand times before in books, poems, movies, and plays. The Boy With the Cuckoo-Clock Heart is a love story. Gene Kelly Singing In The Rain kind of joyous love, mixed with Humphrey Bogart's Casablanca style tragic sad affair. A boy, a girl, their passion, their joys, their trials and tribulations, their heartaches and loss that end up in a chest of memories in someone's dusty attic. So, the basic story is nothing new. It's how Mathias Malzieu tells this soulful tale that makes the story come alive with magic and wonder, laughter and tears, and with all the ingredients that make our hearts thump. This precious little fairytale is made of pixie dust and moonbeams, shimmering snowflakes, the freshness of spring and walking in the rain. It's a drama, it's a comedy, it's a musical, and a fantasy steam punk romance based on what the human heart can conjure up in the midst of unconditional love. What a glorious opulent opera this would make!Dr. Madeline is a midwife to fallen women who can't afford to keep their bastard children. On the coldest night of the year, in a tiny Edinburgh village, she adopts a baby boy with a faulty heart and replaces it with a cuckoo-clock. Little Jack's heart beats with an odd tick and strange tock, and is raised to believe his heart will not withstand the shaky tumult that falling in love can cause. Dr. Madeline warns him over and over, to stay away from love, to avoid matters of the heart, for his little wooden clock is much to frail to bear the excitement of love and the hurt it eventually brings to those who fall prey to cupid's darts. Ignoring her wisdom, and as Jack becomes a young man, he ventures out into the world to one day meet a beautiful singing girl in the town square. Her angelic voice beckons, his heart thumps wildly, and Jack must have this sexy siren called Miss Acacia. From here to the end of this twinkling little book that shines like a beacon in the night, a glorious love story unfolds that will have Jack traversing across Europe through London, Paris and the mountains of Spain, as he follows his wooden heart and experiences the ups and downs of love and lust as Miss Acacia leads him on a merry chase. The whirlwind treasure trove of mixed up emotions that cause earthquakes in Little Jack's soul, and tremors to his mechanical cuckoo-clock heart, will have readers cheering him on as he learns the ways of courtship and love from a ragtag band of unlikely friends and foes.Due to the flavor and sexual content, this is not a children's fairytale. It is for adults only and one that would make a wonderful Valentine's Day gift or any gift of the heart from one lover to another, or for any hopeless romantic. My only wish would have been to see the book published with illustrations for additional enhancement. This book is optioned for a film and one can find a very creative and entertaining video trailer of the story online that is worth seeing. Sparks of Edward Scissorhands and tidbits of The Corpse Bride come to mind when reading this book, and for certain it does have that Tim Burton flair to it. Mathias Malzieu's premier debut knocked my socks off. His talent for story telling and ability to weave passages of beautiful words were akin to the creation of a fine oriental carpet. Full of vivid life and spirit, this book is one of those gems that will sparkle and stay on people's book shelves forever never to be parted with. Bravo, Bravo, Bravo…Don't miss this folks!!! Don't even think about missing out on this literary experience!