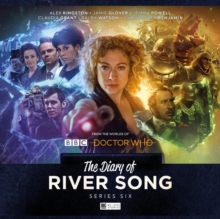 The Diary of River Song - Series 6
CD-Audio
Description
River Song has many ways to amuse herself away from her husband. And with access to the Doctor's diary, she knows exactly when he might be around, and when best to slip in unnoticed and liberate valuable trinkets...But first of all, she must ensure he makes it out of Totters Lane alive!
An Unearthly Woman by Matt Fitton. Coal Hill School has a new member of staff: an educated woman, who seems to specialise in every subject.
Meanwhile, teachers Ian Chesterton and Barbara Wright have concerns over the behaviour of one of their pupils.
Susan Foreman is intrigued by Dr Song, but something else is stalking her in the darkness and fog of London, 1963...
The Web of Time by John Dorney. The capital has been evacuated. Monsters stalk the Underground. For River, it's the perfect opportunity to steal a priceless artwork, so long as she can avoid looters, soldiers and an alien invasion.
With the gallant Captain Knight at her side, River faces the Great Intelligence and its Yeti army.
But her biggest challenge may be keeping time itself on track.
Peepshow by Guy Adams. Miniscope parts fetch quite a price on the open market - luckily, River knows where she can find one that's about to be decommissioned.
Unfortunately, this particular miniscope is chock-full of aliens, as well as unsuspecting Earthlings.
River must face a carnival of monsters before she can claim her prize - across miniature habitats, Ogrons, Sontarans and Drashigs await!
The Talents of Greel by Paul Morris. River visits Victorian London on the trail of anachronistic technology.
But when young women are stolen from the streets, she takes a stand.
River's investigation leads to theatre impresario Henry Gordon Jago, and his latest star act: LiH'SenChang and the unnerving Mr Sin.
But if River's going undercover at the Palace Theatre, she needs to have a song...CAST: Alex Kingston (River Song), Claudia Grant (Susan Foreman), Jamie Glover (Ian Chesterton), Jemma Powell (Barbara Wright), Lizzie Stables (Sheila Page), Edward Dede (Lloyd Walker), Owen Aaronovitch (Mr Newbold), Ralph Watson (Captain Ben Knight), Kathryn Drysdale (Erin Harris), Mandi Symonds (Maude), Sam Clemens (Corporal Buscombe), Clive Wood (Dibbsworth), Dan Starkey (Commander Sturmm), Guy Adams (Ogrons), Christopher Benjamin (Henry Gordon Jago), Nicholas Goh (Li H'Sen Chang), Angus Wright (Magnus Greel), Milly Thomas (Celestine Sorbonne), John Paul Connolly (Casey).
Other parts played by members of the cast.
Information
Format: CD-Audio
Publisher: Big Finish Productions Ltd
Publication Date: 31/10/2019
Category: Space opera
ISBN: 9781787035072
Free Home Delivery
on all orders
Pick up orders
from local bookshops
Also in the The Diary of River Song series