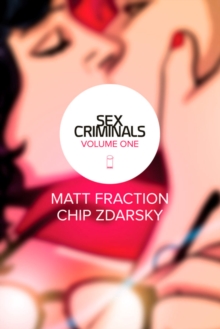 Sex Criminals Volume 1 : One Weird Trick
Paperback
Description
"Great fun!" - The MiamiHeraldNamed one of Time Magazine's top 10graphic novels for 2013!Suzie's just a regular gal with an irregulargift: when she has sex, she stops time.
One day she meets Jon and it turns outhe has the same ability. And sooner or later they get around to using theirgifts to do what we'd ALL do: rob a couple banks.
A bawdy and brazen sex comedy for comics beginshere, by Matt Fraction (Satellite Sam, Hawkeye) and Chip Zdarsky(Prison Funnies, Monster Cops). "On the surface, this is ahilarious story of two people, Suzanne and Jon, with the power to stop timeafter they orgasm, and then rob banks while (almost) everyone else is frozen intime, which is an amazingly original idea.
But underneath that, this is a storyof the beginning of a relationship: its exciting newness, its terrifyingpossibilities, its ups and downs, its secrets and understandings, and, ofcourse, its sex." - PW
Information
Format: Paperback
Pages: 128 pages
Publisher: Image Comics
Publication Date: 29/04/2014
Category: Science fiction
ISBN: 9781607069461
Free Home Delivery
on all orders
Pick up orders
from local bookshops
Reviews
Showing 1 - 5 of 17 reviews.
Previous | Next
Review by senbei
16/06/2015
Based on the first issue, my expectations for the graphic novel were just outlandishly high and it's not really Zdarsky's fault they couldn't be met. Still though, I feel like there was SO MUCH MORE possible with Suzie as the protagonist. Once Jon became the protagonist the story became utterly flat and depressing, and more than once i debated not finishing it. The one panel I really smiled and awwed was Suzie petting the tiger. That panel kind of saved this graphic novel for me.
Review by rivkat
16/06/2015
When Suzie has an orgasm, time stops for the rest of the world, and she can move around freely while everyone else is frozen, until she's recovered. (Her early attempts to figure out whether orgasm is like this for everyone provide some of the funniest bits, given our sex-mystifying culture.) Eventually, she meets Jon, who has the same power but is much more maladjusted; they decide to start robbing banks to get money to save the library Suzie works at; then the Sex Police get after them. The beginning concept is so strong that some wobbles of execution/plausibility even spotting them a lot of worldbuilding are tolerable, though I sort of wonder where it can go from here. I will probably find out.
Review by zzshupinga
16/06/2015
ARC provided by NetGalleySuzie is just a regular gal with a slightly weird/strange gift. One that, well...is just a bit out of the ordinary. When she has sex time stops. Literally. Everything is frozen. Suzie thinks she's alone and will never be able to really appreciate sex and then she meets Jon. And Jon has the same gift. And love blossoms. And what do you do when you discover you can stop time? Why...rob a couple of banks of course! And that's when the real adventure begins.OK if you're like me and saw the title "Sex Criminals" and then read the description and you're thinking "holy crap...what? no, just no" take a deep breath and step back. Because seriously, this is a fantastic comic and there is a reason why time magazine named it one of the top 10 comics of 2013. Yes it's a bit...out there with the fact that these two kids can stop time everytime they have sex or pleasure themselves, but there is more to the story than that. I mean think about it for a minute. What if, you were Suzie or Jon. How would you react to discovering that time stopped when you had sex? Who do you ask if that's normal? And how can you enjoy it if the person that you're with...suddenly doesn't move and you can't share that feeling? Sure you can run around and do other things, as both Suzie and Jon do, but you'll also notice...they get rather bored. It stops being fun, because who do they share it with? So in a strange, somewhat weird way, this story is really about connecting with others that are like you. And while it could have been really raunch or racy, Matt Fraction creates characters that you can't help but fall in love with and admire and want to know what happens to them. Even more importantly to me though, is that the characters speak honestly and frankly about sex. Sure they use some humor, but there's no hiding it and calling it something different to save the ears of whomever. It's just...there. It's part of life. Fraction became one of my favorite writers once I read Hawkeye, and this series has only increased my admiration for him.Illustrating this type of comic is a challenge. I mean, how do you not draw girls with huge chests, curves galore and guys that make Fabio look like a boy? But Chip Zdarsky moves past that. Suzie and Jon...they're just regular people. I mean they look like, well people you actually meet at work and hang out with. This is one of the best surprise comics I've read in a long, long time. And I can't wait to continue the story. So please, do yourself a favor and go pick this one up. Seriously. You won't regret it. 5 out of 5 stars.
Review by Glennis.LeBlanc
16/06/2015
Two people meet and find out they share a unique talent for stopping time when they have an orgasm. The story is amusing but the writing can either entertain you or irritate the reader depending on how much in flashbacks and breaking the fourth wall you can stand. The story arc leaves Suzie and Jon finding out they are not alone in their powers and on the run. An amusing story but may not be for everyone with either the plot device or the writing style. <br/><br/>Digital review copy provided by the publisher through NetGalley
Review by -Eva-
16/06/2015
Suzie meets Jon, who has the same rare gift that she has: when they have sex, time stops. Bank-robbery and time-travel isn't a rare combination and this is a spin on that trope, with sex thrown in to make it more exciting, I assume. I like some of the art, but the story gets "samey" very fast. I didn't quite get what the fuss is about, but perhaps someone else does.