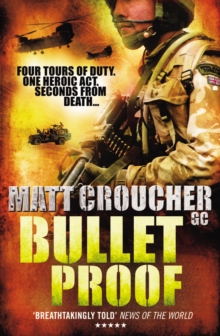 Description
It's Afghanistan, February 2008: in an out-of-control, dangerous country torn apart by war, littered with Taliban guerrilla forces and thousands of miles from home, Lance Corporal Matt Croucher, a Royal Marine with 40 Commando, accidentally activates a grenade whilst on a covert patrol behind enemy lines.
With only a split second to react, Croucher's instincts kick in and he throws himself beside the grenade, reasoning that saving the lives of his three comrades was worth the likelihood of losing his own.
Miraculously, and against all the odds, Croucher survived, and mere hours later was taking part in a gun battle against local insurgent fighters, demonstrating a raw, unique courage and devotion to military duty that would later see him awarded the George Cross - a distinction bestowed only on those who perform acts of the greatest heroism or of the most conspicuous courage in circumstances of extreme danger.
Croucher's George Cross would make him famous around the world.
But his story is much more than just one heroic act in isolation.
His is a life of bullets, blood and loyalty, and of lives saved and lives taken. From a young marine aged 19, when he was one of the first 200 Allied soldiers to invade Iraq back in 2003 as part of an elite force of British Marines and US Special Forces, through to his second tour of duty in 2004, when he suffered a fractured skull following a roadside bomb attack, only to return to action just a week later, and then being thrust into hellish Afghanistan, Croucher has seen vicious fighting, intense gun battles, roadside ambushes, and witnessed the death and injury of close colleagues on an almost daily basis.
This is his incredible story: a searing, vivid, non-stop account of one man's heroism and courage under fire, in the most gruelling combat environment since the Second World War.
Information
Format: Paperback
Pages: 304 pages
Publisher: Cornerstone
Publication Date: 10/06/2010
ISBN: 9780099543084
Free Home Delivery
on all orders
Pick up orders
from local bookshops
Reviews
Showing 1 - 1 of 1 reviews.
Review by scuzzy
16/06/2015
Normally I wouldn't read too many books liek this, modern warfare doesn't really excite me; it just doesn't have the romanticism that WWII has. That is not taking anything away from our modern day fighters and is not meant ot show disresepct, but in today's battlefields the technology available to take out a baddie gives it the feel of a video game. However the argument is that the baddies have that same technology.A mate left me this book to read and I have to admit I enjoyed it. Following a young lad's quest to become a Royal Marine Commando and training through to his postings in Iraq and Afghanistan this book does well to point out just how brutal and necessary the war on terror is. But for me the poignant moment comes from his return home, a supposed hero and his inability to cope with 'normal' life, and jhis despair that his own country was rotting internally as well. He left the Marines only to find he missed the action and his mates and rejoined in the war against the Taliban, and if Iraq must have seemed a hell hole, this place is Satan's own bathroom.It finishes as it starts off; the incident and receipt of his George Cross for putting his own life at risk to save others, and his blase meeting with The Queen. A good book, well told and written, if a little sporadic and peppered with slang and jargon.