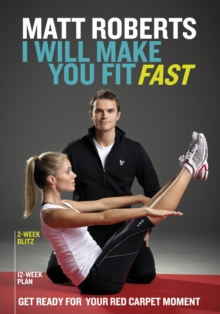 Matt Roberts: I Will Make You Fit Fast
Paperback
Description
Responsible for creating some of the most famous physiques in fashion, music, politics and industry including Tom Ford, Naomi Campbell, Michael McIntyre, James Corden, Amanda Holden, Trudi Styler and Mel C, personal trainer Matt Roberts has worked with celebrities who have requested, demanded and wished for every conceivable goal.
In this exciting new book, Matt encourages you to think like a celebrity, presenting two of his highly acclaimed fitness and diet programmes for following at home and in your gym.
The first, a 12-week plan, allows time to radically change your body in all ways - sculpting your shape, stripping fat and increasing fitness levels dramatically.
It will leave you thinner, stronger, fitter and more energised. And once you have burnt the fat away, it will stay away.
The second, a 2-week 'blitz' programme, is something that Matt uses with clients when they are in the final two weeks of training before their big moment. It is intensive, it is strict, and it will make you push yourself to a whole new level, but it will give you the opportunity to rid yourself of as much fat and fluid as possible in a very short time frame, and you will lose inches far more quickly than you thought you could.
This programme is unapologetically challenging, but it does produce great results, quickly!
While Matt knows that being ready for a 'red carpet' moment heightens the level of attention on a scale unlike almost anything else, he also understand that you can produce something similar yourself at any time, by setting clear goals, having a target, setting a timeline and also understanding the upsides and downsides of achieving or failing to reach your desired goal.
So whether you are preparing for a special occasion such as a wedding day or simply aiming to get yourself into shape for the beach in summer, Matt provides the structure, the programme, the expertise and the guidance to help you to reach your intended goal, fulfil your potential and demonstrate that no obstacle is too big and no challenge insurmountable.
Information
Format: Paperback
Pages: 192 pages, 150 colour photographs
Publisher: Quadrille Publishing Ltd
Publication Date: 19/02/2011
Category: Fitness & diet
ISBN: 9781844009640
Free Home Delivery
on all orders
Pick up orders
from local bookshops