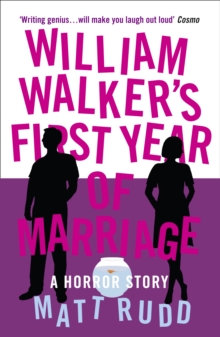 William Walker's First Year of Marriage : A Horror Story
Paperback
Description
For anyone who has ever dreamed of finding true love only to discover that happy endings are just the beginning comes this brilliantly comic novel about marriage, ex-girlfriends, `performance anxiety', and what it takes to make happily ever last beyond the honeymoon.William is a happy man.
He has just married Isabel, the girl of his dreams, and is confidently sailing along on a sea of wedded bliss.
He's got a hot wife, a snazzy new job and things couldn't be much better.
Sure, there are a few bumps in the road, but life on the whole is good.That is until Isabel's `best friend' Alex starts to intrude on their wedded bliss. And when William's ex-girlfriend Saskia - aka the `Destroyer of Relationships' - appears on the scene, things go from bad to worse.
For marriage, William quickly discovers, has its own set of rules. And while falling in love is easy, staying in love can be a whole lot trickier...Witty, irreverent and laugh-out-loud funny, "William Walker's First Year of Marriage: A Horror Story" is the perfect novel for anyone who has ever wanted to know what the person they're facing at the altar is REALLY thinking - and been rightly afraid to ask.
Information
Format: Paperback
Pages: 304 pages, 12 b/w illus
Publisher: HarperCollins Publishers
Publication Date: 01/09/2009
ISBN: 9780007308972
Free Home Delivery
on all orders
Pick up orders
from local bookshops
Reviews
Showing 1 - 5 of 5 reviews.
Review by sanddancer
16/06/2015
This book can best be described as "chick lit by a man". It isn't the sort of thing I'd normally pick myself but I was sent an advanced copy by HarperCollins. As the title suggests, it is the story told in diary form of a man's first year of marriage. The main character is childish and self-obsessed, and most of this problems are self-created. Those that aren't self-created are so ridiculously far-fetched that they are unbelievable. Oddly for a book about marriage, his wife hardly features in it at all and isn't a fully developed character. Some of it is amusing, but Matt Rudd writes regularly for The Times, so some of the funniest stuff in here, I recognised from his newspaper columns.
Review by pokarekareana
16/06/2015
Another cheap Kindle acquisition; again, read on a miserable afternoon while I was ill. I can't quite set it into a particular genre, as it bridges the gap between chick-lit and humour – it starts out as very much the latter, but the ending segues into a slightly cheesy chick-lit. I'm not sure that I would have finished it if I hadn't been ill, because the characters are a bit on the annoying side. A couple of weeks on, I'm struggling to remember much of it at all – I think there were a few giggles along the way, but nothing amazing to recommend this one, really.
Review by nicx27
16/06/2015
This book is told in diary form by William, who has just got married to the woman of his dreams, Isabel. The diary starts on the day he marries when he still believes that nothing can go wrong. Over the course of the next year, a lot goes wrong and it makes for a fun and light-hearted read. It did make me laugh out loud a few times, mainly due to William's turn of phrase as much as what actually takes place in the book.A good read, and I would consider reading the sequel.
Review by shelleyraec
16/06/2015
Lad lit - some moments of hilarity but mostly predictable, cliched and rather ordinary. A quick read that doesn't require much in the way of concentration.
Review by readingwithtea
16/06/2015
"She sings like someone being stabbed in a shower: all commitment, no tonal control. This is not being she's singing and fighting back the urge to vomit. This is how she normally sings. It is one of her endearing qualities."This is pretty much the story of an angry man not coping with his wife's male best friend. He does ridiculous things, like throw cold tea over work experience peons, and get trashed and play computer games instead of showing the flat to the estate agent, and is basically the worst stereotype of a useless husband that there is.We started out with such promise, a new husband being a rather unusual (from my experience) protagonist, but the entire plot was patently ridiculous and the witticisms were the only aspect of this dire work that kept me going to the end."I expected some sort of fanfare, going back to work. To be treated differently. I feel different. Very grown-up. Last time I saw everyone, I was Single Man, now I'm Married Man. I speak the language of Married Man. I'm part of the Holy Order of Married Men. I know the Code. I can do mother-in-law jokes""This is something that Isabel is good at: twisting an argument so that what a minute ago sounded fair and reasonable coming out of your mouth sounds like something about as acceptable as kitten-stamping.""Before Johnson 'went soft' and came to work on Life & Times magazine with me, he was a hard-bitten crime reporter... somewhere along the line, he has muddled his time working the sink estates, covering stories of social decay, organised crime and young lives wasted with marriage. He sees them as the same thing."The final nail in the coffin of clichés in this book was the atrociously twee ending. I won't say what it is, but as I got towards it, and release from this prison of a book, it did occur to me that the last chapter might reveal a next step, a future as an ending, and lo and behold, a beautifully neat conclusion just wrapped itself in a bow and jumped into my eyes.It gets two points out of ten and two points only because there are some funny lines.