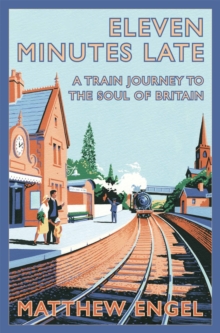 Eleven Minutes Late : A Train Journey to the Soul of Britain
Paperback
Description
Britain gave railways to the world, yet its own network is the dearest (definitely) and the worst (probably) in Western Europe.
Trains are deeply embedded in the national psyche and folklore - yet it is considered uncool to care about them.
For Matthew Engel the railway system is the ultimate expression of Britishness.
It represents all the nation's ingenuity, incompetence, nostalgia, corruption, humour, capacity for suffering and even sexual repression.
To uncover its mysteries, Engel has travelled the system from Penzance to Thurso, exploring its history and talking to people from politicians to platform staff.
Along the way Engel ('half-John Betjeman, half-Victor Meldrew') finds the most charmingly bizarre train in Britain, the most beautiful branch line, the rudest railwayman, and - after a quest lasting decades - an Individual Pot of Strawberry Jam.
Eleven Minutes Late is both a polemic and a paean, and it is also very funny.
Free Home Delivery
on all orders
Pick up orders
from local bookshops
Reviews
Showing 1 - 3 of 3 reviews.
Review by PeterBlack
16/06/2015
Entertaining and illuminating - not at all a straight travellogue
Review by Eyejaybee
16/06/2015
A fascinating paean to Britain's railway network. Engel, better known to me from his former incarnation as the editor of Wisden, spent a fortnight doing nothing but travelling around the British railway network.Armed with a two-week rover ticket which entitled him to travel by any train (first or standard class) on the whole network, he began by striving to travel as quickly as possible form one end to the other, and then made his return journey at a more leisurely pace, travelling as widely as possible Dundee, whence he changed for Inverness and then ultimately Thurso. While describing his journey he throws in all sorts of fascinating detail about the history of the development of the network, and successive governments' failure (from 1830 on through to today) to understand the nature, purpose and potential of the rail network.He gives an enthralling (though also infuriating) description of the various stages of nationalisation, privatisation and then partial re-nationalisation of the network, and a detailed idssection of Dr Beeching's infamous evisceration of the network in the 1960s.He travels along some amazing routes and meets some marvellous people on the way. However, equally poignantly, he travels ofn some ghastly trains and meets some abysmal characters including the buffet steward, Umerji, whose opening attempt at customer service is, "What're you waiting for, you c**t?"I confess to having certain anorakish tendencies with regard to trains so I was completely taken with this book.. However, it does not fall into the all-too-inviting trap of a rose-tinted spectacles view of the current or past systems. Realistic, lucid and entertaining!
Review by Opinionated
27/08/2015
As withering a critique of Britain's mismanagement of the railway system as you could wish for, best summed up by a junior civil servant as "its completely fucked. The biggest cock up of all time". Although, as Engel himself notes, someone writing a book about British energy policy might have another view. But this is not the book of a nostalgist for the whimsy of steam trains and uneconomic branch lines. Anything but. Engel is as scathing of, if amused by, the ineffeciencies of the 19th century as he is angered of those of today. Engel is a train fan yes, but he has little time for meandering routes kept alive by bye election fears. A history to railways is interspersed with a gossipy travelogue of a 2 week trip through the UK, armed with a Rover ticket giving him an unlimited ticket to ride. This is often funny, if slightly pooterish. And elegiac of certain branch lines, stations and landscapes you and I are never likely to see.Well worth reading