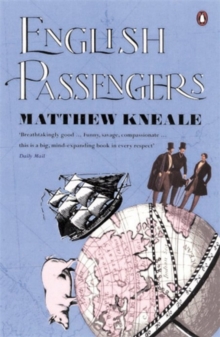 English Passengers
Paperback
Description
'A big, ambitious novel with a rich historical sweep and a host of narrative voices.
Its subject is a vicar's ludicrous expedition in 1857 to the Garden of Eden in Tasmania, [as] meanwhile, in Tasmania itself, the British settlers are alternately trying to civilise and eliminate the Aboriginal population ...
The sort of novel that few contemporary writers have either the imagination or the stamina to sustain' - Daily Telegraph
Information
Format: Paperback
Pages: 480 pages
Publisher: Penguin Books Ltd
Publication Date: 27/01/2001
ISBN: 9780140285215
Other Formats
EPUB from £4.99
eAudiobook MP3 from £6.79
Free Home Delivery
on all orders
Pick up orders
from local bookshops
Reviews
Showing 1 - 5 of 7 reviews.
Previous | Next
Review by aapjebaapje
16/06/2015
The vicar is looking for the Garden of Eden in Tasmania. The aborigines are being killed off by the white settlers. Surprisingly, for the content this is a comic novel. I finished it because it was on the Radio 4 Reading Club but it wasn't really my cup of tea although it was quite a good book.
Review by Clurb
16/06/2015
A comic and touching story of racial extinction, religious fervour, and honest-to-goodness smuggling. I raced through this one and loved every page.
Review by akfarrar
16/06/2015
Missing Links or Chains?We are in Tasmania, once Van Deiman's Land, in search of Paradise; amongst the prisoners in the British run proto-concentration camps; with the aborigines facing extinction at the hands of `the British'; and on a boat of `unfortunate' Manx smugglers constantly running from customs officers. The scope is both very tight on two `small' islands off the coast of major parts of the Great British Empire, and world spanning in the vast expanses of the British Ruled Waves between.I wouldn't know the factual accuracy of everything in the novel, but it is certainly one of those fictions that contain a truth about both the good and the bad in human nature.It is a book of contrasts, where you cannot remove one `side' without making the other invisible. The Reverend Wilson, in a reaction to the new study of Geology's findings about the age of the earth is in search of a physical, only 5,000 year old Paradise; on the same trip is Dr Potter, secretive scientific in the new sense, and looking for evidence of the inheritable superiority of the Anglo-Saxon. Both wish to become famous as a result of the publications they will base on their journey across the world.Put against this high energy double-extreme is the third member of the expedition, Timothy Renshaw; a disappointment to his family and on the boat officially as botanist, but really in search for a meaning to his life - or so his family hope: A more laid-back, late adolescent you could not wish for.I can't help being reminded of the voyage of the Beagle, of Darwin and Fitzroy. But it is only a reminder - Matthew Kneale has resisted the temptation to base his characterisation on them but seems to have taken the issues which arise from that real, paradigm-shattering voyage and personified them.That this works so well is mainly due to the stunning `voice' he gives to each of his characters.The Manx captain and crew don't only have a superficial sprinkling of Manx words, they seem to think Manx - and a whole culture linked and contrasting with the dominant English emerges in those parts told by Captain Illiam Quillian Kewley (and Kneale should have won the Booker Prize on the strength of that name alone!).The tour-de-force though is Peevay.With a Tasmanian mother abducted to be a sex-slave by an escaped convict father, Peevay journeys through the book searching for love and identity. The only certainty he has is his ability to endure. He tells his story in a language which stretches English to its limits. It isn't the usual `poetic' limit, or `stream-of-consciousness' limit; it is a twisted grammar and not-quite-right-vocabulary of a none-native speaker struggling to express complex thoughts and emotions limit; it is a way of thinking about the world in another culture limit; it's a limit which pulls you screaming and kicking into a strange world and consciousness of `other' experience.It is a language that makes you regret that part of your ancestry which was responsible for the Genocide on Van Deiman's Land.I don't think I give too much away if I say Peevay does achieve a sort of resolution, nor if I say there is an ending which leaves one hopeful. This is a book which you won't forget in a long time, and which treats the 19th century as what it was - the foundation of much of what we think and do at the start of the 21st Century.Well worth reading!
Review by Figgles
16/06/2015
Waiting till I finish it...if ever - so far slipshod research into ships (why go aloft to let go the sheets? Sheets are lines attached to the corners of the sail and are led down to the deck, landlubbers often confuse sheets and sails, I've sailed in square rig and I know) ; since when does a sea breeze blow away from the land, I'm not trying to be petty, these little errors compound the unconvincingness...how could a wombat climb a companionway ladder on its stumpy legs...Well I finally finished it. Funny? not to me. Clever? no - full of silly little errors of fact that undermine it. Every English voice is full of self righteouss pompousness and it becomes very annoying- I realise this is a technique of characterisation (having each character speak in their own voice) but the cliches and platitudes are exceptionally tedious! (Hence the need for a third person narrator).... and what was it about - it seemed to be at war with itself, am I a comic romp about an inept Manx smuggler and a dotty Englich cleric or a dark tale about the evils of racial psuedo science and the fate of the Tasmanian aboriginals. I don't have a full O.E.D. either but I suspect as well as sailing errors we have a great deal of anachronistic speech...I think the book fell into it's own trap - every English character thinks they know best about the "poor blacks" and the author thinks he knows best about the attitudes he satirises. For all these reasons for me it failed utterly. How could it win a Whitbread? Fashion for noble savages and idiot Europeans?
Review by risikat
16/06/2015
An epic tale, related with some humour, touching on issues of race, culture, class and empire.