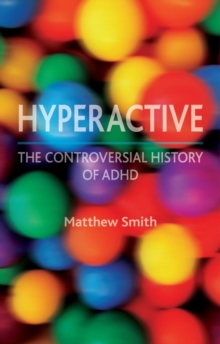 Hyperactive : A History of ADHD
Hardback
Description
Attention deficit hyperactivity disorder, or ADHD, is one of the most common developmental disorders, with an average of 9 per cent of children between the ages of five and seventeen diagnosed per year in the USA.
It is also one of the most controversial. Since the 1950s, when hyperactivity in children was first diagnosed, psychiatrists, educators, parents and politicians have debated the causes, treatment and implications of the disorder.
Hyperactive: The Controversial History of ADHD is the first history of the disorder.
Matthew Smith highlights the limitations of regarding ADHD as simply neurological, and contends that hyperactive children are also a product of their social, cultural, political and educational environment.
Instead of simply accepting conventional understandings of ADHD, this book addresses the questions central to the emergence of the disorder: Why were children first diagnosed with the disorder?
Why did biological explanations become predominant? Why did powerful drugs become the preferred treatment? And why have alternative explanations failed to achieve legitimacy?By thinking through these issues Smith demonstrates how knowledge of the disorder's history can be used to empower those affected to make better choices about diagnosis and treatment. As a historian with past experience of working with troubled children and youth, Matthew Smith offers a history that is not only rigorous, but also accessible and highly relevant to those working with and caring for those diagnosed with ADHD.
A revealing and clear-headed study of a controversial and emotive subject, this is an essential book for psychologists, teachers, policy makers and, above all, parents.
Free Home Delivery
on all orders
Pick up orders
from local bookshops