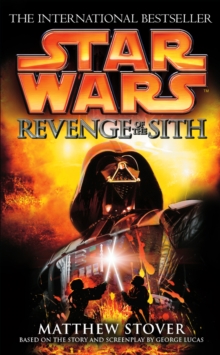 Star Wars: Episode III: Revenge Of The Sith
Paperback
Part of the Star Wars series
Description
The turning point for the entire Star Wars saga is at hand. . . . As combat escalates across the galaxy, the stage is set for an explosive endgame: Obi-Wan undertakes a perilous mission to destroy the dreaded Separatist military leader, General Grievous.
Supreme Chancellor Palpatine continues to strip away constitutional liberties in the name of security while influencing public opinion to turn against the Jedi. And a conflicted Anakin fears that his secret love, Senator Padme Amidala, will die.
Tormented by unspeakable visions, Anakin edges closer to the brink of a galaxy-shaping decision.
It remains only for Darth Sidious to strike the final staggering blow against the Republic-and to ordain a fearsome new Sith Lord: Darth Vader. Based on the screenplay of the final film in George Lucas's epic saga, bestselling Star Wars author Matthew Stover's novel crackles with action, captures the iconic characters in all their complexity, and brings a space opera masterpiece full circle in stunning style.
Information
Format: Paperback
Pages: 480 pages
Publisher: Cornerstone
Publication Date: 01/10/2005
Category: Space opera
ISBN: 9780099410584
Other Formats
CD-Audio from £13.05
EPUB from £4.99
Free Home Delivery
on all orders
Pick up orders
from local bookshops
Reviews
Showing 1 - 4 of 4 reviews.
Review by libraryofus
16/06/2015
(Alistair) Dramatically better than the film it was based on, in fact.
Review by NotoriousBIGeek
16/06/2015
This book is pretty good if you have read the other books based on the movies. However, Stover really helps because it does tie with the rest of the saga so yeah it's awesome!
Review by Daniel.Estes
16/06/2015
Much like their film counterparts, when book 1 came out I was ecstatic, when book 2 came out I was skeptical but optimistic, and when book 3 came out I was indifferent and mostly over it. The conventional wisdom says that it's better to have angry fans instead of apathetic ones, and by the time Anakin Skywalker donned the helmet and fully became Darth Vader, I couldn't have cared less.Enough is enough. This is not how I wish to remember the backstory of the original Star Wars movies. From now on I will imagine my own history.
Review by sedelia
16/06/2015
I am a second-generation Star Wars fan, so when my dad bought Revenge of the Sith, I definitely had to borrow it from him and read it. While I enjoyed getting to know the characters in a new way, I wasn't all that impressed with this book. However, that didn't surprise me, because I also wasn't impressed with the movie on which Stover based it.You do get more from the book than in the movie -- especially in terms of character development. I think that Stover went a lot more into Yoda's feelings about the fall of the Republic and he did a great job in showing the friendship between Obi-Wan and Anakin. I loved that. For me, it brought entirely new elements into the story line that I had never thought of and made Luke's story a little more interesting, even. However, the same problems that were in the movie still persist. I get that Anakin was tempted to the Dark Side, and that clouds his judgment, but he truly loves these people. In the book, how he feels for Padme and Obi-Wan is way more obvious than it is in the movie. Yet, within a chapter he changes and is ready to turn is back on Obi-Wan, who is practically his brother at this point, and then he even becomes suspicious of Padme, the woman he used to trust absolutely. I think a lot more development and explanation was needed for this character shift, because otherwise, it simply seems too convenient.Also, don't think that you can read this book without watching the movie. Stover relies heavily on the fact that the reader knows what he's talking about and what's going on. Not much description or explanation is given in terms of places, characters, and background information. This isn't a problem for those of us who have seen the movies (although it does make the writing feel less developed), but it would be a huge problem for someone who only wanted to pick up the book.However, for a Star Wars fan, Revenge of the Sith is still an okay read. I wouldn't say that you should go out of your way to read it, but it's kind of cool to get a different perspective on all the characters and what they're feeling about all the chaos that's going on in this novel. Star Wars in general is a brilliant story about growing up, love, friendship, doing what's right, and making hard choices. No matter what format it's in, that holds true throughout all the stories