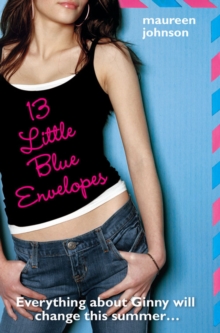 13 Little Blue Envelopes
Paperback
Description
Everything about Ginny will change this summer, and it's all because of 13 little blue envelopes... Perfect summer read from Queen of Teen 2012! Ginny, aged 17, is left 13 little blue envelopes by her free-spirited young Aunt Peg.
Little does she know just how much they will change her life... * Inside envelope No 1 is money and instructions to buy a plane ticket.* Inside envelope No 2 are directions to a specific London flat* Inside envelope No 3 a note to Ginny says: Find a starving artist.* And because of envelope No 4 Ginny and a man called Keith go to Scotland together, with somewhat disastrous - though utterly romantic - results.
Information
Format: Paperback
Pages: 320 pages
Publisher: HarperCollins Publishers
Publication Date: 02/05/2009
Category: Romance
ISBN: 9780007319909
Other Formats
EPUB from £5.49
eAudiobook MP3 from £14.99
Free Home Delivery
on all orders
Pick up orders
from local bookshops
Reviews
Showing 1 - 2 of 2 reviews.
Review by mattandmandy2
16/06/2015
This was such a heart warming story showing the love that Ginny and her aunt shared. In reading this book really get wrapped up in following along side Ginny as she follows the letters from her aunt. You really get the feeling that your right there with her meeting the people and doing the things that Ginny is doing throughout the story. I feel that this is one of my favorite books of all time it was very well writen. i highly reccomend this book to everyone.
Review by charlottejones952
16/06/2015
The premise of this book is what drew me in the most; 13 mysterious blue envelopes sending you around the world? What could possibly go wrong? But as I started reading this, I realised that there were a few things that I didn't like so much. The author didn't really give the protagonist, Ginny, a lot of personality or background. As a reader, you find out very basic information, such as she is shy and is unlike her friends, but other than that, I didn't really learn that much about her. Also, I found it a bit unrealistic that she just took off around the world at the drop of a hat. Having said this, I did really enjoy this book, and the positives definitely outweigh the negatives.<br/><br/>I absolutely loved the writing style. The quirky humour and mysterious plot made this a fun and fresh read. I really liked the slight romantic aspects of the storyline and think that it was introduced in a really natural way that didn't take over from the actual plot. The characters were lovable and I think that especially Ginny developed a lot throughout this novel. She was the same person at the end but I think that she understood herself better and this made her a lot more interesting to read about. Also the locations described in this book made me want to go travelling as soon as I had turned the final page.<br/><br/>I would give this book 4 out of 5 stars, and although I was a little underwhelmed by the believability of some of the decisions made in this book, I think that I will be looking out for more opportunities to read Maureen Johnson's books and would recommend 13 Little Blue Envelopes as a fun, quick summer read.