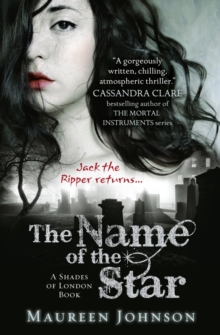 The Name of the Star
Paperback
Description
Thrilling ghost-hunting teen mystery as modern-day London is plagued by a sudden outbreak of brutal murders that mimic the horrific crimes of Jack the Ripper."A gorgeously written, chilling, atmospheric thriller.
The streets of London have never been so sinister or so romantic." Cassandra Clare, author of THE MORTAL INSTRUMENTSSixteen-year-old American girl Rory has just arrived at boarding school in London when a Jack the Ripper copycat-killer begins terrorising the city.
All the hallmarks of his infamous murders are frighteningly present, but there are few clues to the killer's identity."Rippermania" grabs hold of modern-day London, and the police are stumped with few leads and no witnesses.
Except one. In an unknown city with few friends to turn to, Rory makes a chilling discovery...Could the copycat murderer really be Jack the Ripper back from the grave?
Information
Format: Paperback
Pages: 352 pages
Publisher: HarperCollins Publishers
Publication Date: 01/09/2011
Category: Horror & ghost
ISBN: 9780007398638
Free Home Delivery
on all orders
Pick up orders
from local bookshops
Reviews
Showing 1 - 1 of 1 reviews.
Review by NerdOnTheFloor
16/06/2015
Having picked this up just after my birthday, with no idea what it was about and based solely on the awesomeness and mentalness of Maureen Johnson, I began reading having no idea what I was in for and no insight into what the story was about. <br/>Well, I say I had no idea what the story was about; I knew that it involved a girl called Rory and there was Jack the Ripper stuff and she came to London... but other than that, I was in the dark. I was surprised when it was set in the modern day. I thought it was a period book! Shows what I know... <br/><br/>Anyway, from the start I was pretty much drawn in. Really exciting and really gripping. As it say in the cover, The Name of the star was an exceptionally atmospheric book. I very much enjoyed the perspective of an American girl in London. Some of the outside observations were excellent. <br/>Moving on, I really liked the way the relationships were built. How Rory slowly built up a small circle of friends, which was something I could identify with. I mean, throughout the majority of the book you could say that Rory really only had 3 friends. I liked that intimacy and... I guess, that element I could associate with. <br/>From the start, Rory was a very likeable person. From the start, I liked her and that only increased as time went on. She's an independent and an interdependent character at the same time - she stands on her own, she's knows who she is, but she knows she needs others and that's evident through the book. <br/><br/>As I read on and watched the story behind this new Ripper unfold, I slowly became more and more involved and excited. Then, as the history of the Shades was told and it was seen to intertwine with the history of the new Ripper, piecing the information together became more and more involving. I finished a chapter at one point and had to put the book down, resorting to pacing back and forth as I ran through what it all meant. I really liked the way the events started to slot together and work themselves out. Very rewarding and very involving. <br/><br/>I really liked the little nod to Doctor Who nearing the end of the book; Rory gets slashed by the Ripper and you kinda think she dies. But then she wakes up in hospital. I can think of another Rory that keeps dying but not-dying... Eh? Eh? ;) <br/>And I loved the little hook for the next book at the end. Rory <i>is</i> the terminus now. Very clever, intriguing little hook for book two in the expected trilogy; I really liked that little twist. <br/><br/>Now, the one thing I wasn't too keen on about this book was the Casper the Friendly Ghost Busters type thing they had going on. I mean, I knew that there was some sort of ghosty aspect to the story. Don't get me wrong, it was done in a very interesting and somewhat believable way. I mean, it was explained very nicely and I didn't find myself scoffing at it at all. But I've never been a fan of supernatural type stuff. But I did very much enjoy the little "pfft, of course there are no vampires or werewolves" bit. That made me chuckle. <br/>I think the crux of it this: I'm just not that keen on ghost stories. That's just my personal preference and that's why this got only 3 stars from me. Had I been more of a fan of this area, it would have got more stars. Maybe even 5. <br/><br/>For an intro into the ways of the MoJo, The Name of the Star was very good. I really enjoyed the relaxed, first person manner in which she writes and above all else, I found 'Star very easy to read. It wasn't taxing, but it had depth; a very thrilling, exciting and visual (if a book can be visual...) read. If you're not a fan of ghost stories or books with a somewhat supernatural edge - because that's what this book is; it's not about ghosts or spooky stuff or the supernatural. It's about a girl and how she finds herself in the middle of it all - then you will still, in all likelihood enjoy this. However if you really have a thing for the spooky stuff then this is really, especially for you.
Also in the Shades of London series