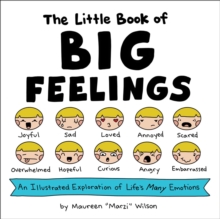 The Little Book of Big Feelings : An Illustrated Exploration of Life's Many Emotions
Hardback
Description
For so long, we have been conditioned to think that it is acceptable to respond "I'm fine," when asked "How are you?" But in reality, our human emotions are much more complicated than that.
Sometimes we are a little grouchy, or elated, or lonely, or livid. And you know, that's okay! In The Little Book of Big Feelings, Maureen "Marzi" Wilson takes you on a journey of self-acceptance and acknowledgment.
After all, there's no such thing as a bad emotion, only reactions to experiences that we can learn from moving forward.
It's perfectly fine to get mad, it's okay to be happy, and it's definitely alright to feel both at the same time.
We are a complex set of feelings, and it's time we start embracing each one!
Information
Format: Hardback
Pages: 192 pages, 4-color
Publisher: Adams Media Corporation
Publication Date: 01/12/2019
Category: Self-help & personal development
ISBN: 9781507212080
Also by Maureen Marzi Wilson