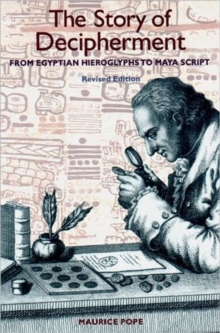 Story of Decipherment (Revised Ed)
Paperback
Description
The desire to solve mysteries is as old as humanity and the spell of an unknown writing has always been particularly potent.
This is a discussion of the contributions to the science of decipherment made by theorists such as Leibnitz and by brilliant practitioners of it from Champollion to Ventris.
Maurice Pope examines the intellectual developments that lead to their outstanding achievements, and describes the process of decipherment, providing quotations from their original publications and many examples of their drawings, tables and diagrams.
Among the scripts the author analyses are the Palmyra script, Sassanid Persian, Egyptian hieroglyphic, Persian cuniform, Akkadian cuneiform, the Cypriot syllabary, Hittitte hieroglyphic, the Ugaritic alphabet and Mycenaean Linear B.
Information
Format: Paperback
Pages: 232 pages, 126 illustrations
Publisher: Thames & Hudson Ltd
Publication Date: 22/06/1999
Category: Palaeography (history of writing)
ISBN: 9780500281055
Free Home Delivery
on all orders
Pick up orders
from local bookshops