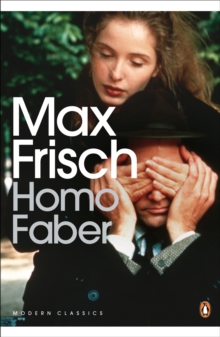 Description
The novel tells the story of a middle-class UNESCO engineer called Walter Faber, who believes in rational, calculated world.
Strange events undermine his security - an emergency landing in a Mexican desert against all odds, his friend Joachim hangs himself in the Mexican jungle, and he falls in love with a woman who dies of a concussion, he has an incestuous affair.
Finally Faber becomes ill with stomach cancer, but it is too late for him to change his life.
Information
Format: Paperback
Pages: 224 pages
Publisher: Penguin Books Ltd
Publication Date: 02/11/2006
ISBN: 9780141188669
Other Formats
EPUB from £3.99
Hardback from £22.75
Free Home Delivery
on all orders
Pick up orders
from local bookshops
Reviews
Showing 1 - 1 of 1 reviews.
Review by Widsith
16/06/2015
And now here at last is a real book for grown-ups. Intelligent and utterly unsentimental, <i>Homo Faber</i> would, I feel, have been wasted on me if I'd read it ten years ago; now it strikes me as extraordinary. (This is unlike most novels, which, if not actually aimed at people in their late teens and early twenties, seem to resonate most strongly with that intense and exciting age group.)As it happens, Walter Faber, the central character of this novel, does not read novels at all. He can't see the point. A technician for UNESCO, Faber builds things, records them, and analyses them. He believes in logic, reason, facts, brute statistics. A machine impresses him in a way that a human does not, because 'it feels no fear and no hope, which only disturb, it has no wishes with regard to the result, it operates according to the pure logic of probability.' Faber has few close male friends; women he can't relate to at all. Too emotional. 'I'm not cynical,' he explains. 'I'm merely realistic, which is something women can't stand.'<i>I called her a sentimentalist and arty crafty. She called me Homo Faber.</i>His one serious relationship ended in divorce years ago. She scorned his beloved technology as 'the knack of so arranging the world that we don't have to experience it.' (And she, by contrast, was an archaeologist: 'I stick the past together,' she says in one of the novel's few moments of unsubtlety.)I can imagine many readers finding Faber very unlikeable, even monstrous; and yet I feel desperately defensive towards him, perhaps because he reminds me of my father. Actually he reminds me of all fathers – there is an air of generalised daddishness about him, and this is not coincidental: the notion of paternity is crucial to the book.'I like functionalism,' Faber says. He has a prose style to match. This is not to say that it is dry, or clunky, or unartful, because it is none of those things. The style is astonishingly telegraphic, elliptical, Faber narrating the facts that he considers important. The effect is staccato but wonderful; an extreme example here from a virtuoso section set in Havana:<i>My lust for looking.My desire.Vacuum between the loins.I exist now only for shoeshine boys!The pimps.The ice-cream vendors.Their vehicle: a combination of old pram and mobile canteen added to half a bicycle, a baldachin with rusty curtains; a carbide lamp; all around, the green twilight dotted with their flared skirts.The lilac moon.</i>Often you are forced to read between the lines to understand what is really going on, and sometimes this reaches such a pitch that one has the impression of having experienced a scene twice. All the time Faber is writing to understand what has happened, and to justify his behaviour to himself. He can hardly accept the novelistic coincidences that the story involves: this cannot have happened. How was I to know. What else could I have done. The probability was minuscule. These were the facts as I knew them.I am not mentioning the plot because it shouldn't be spoiled. Which seems strange, because we are given all the main facts quite early on. But part of the point of the book is discovering that the facts are not always, after all, the most important thing.It's not often I really, really love books in translation. This is not because of any hipsterish misconception that you're not getting the "real" book, it's just that one of the things I most enjoy analysing when I read is the nuts-and-bolts mechanics of sentence construction and vocabulary choice, and this is all very different when you are reading the words of a translator. (Not that translators are not adept at this too – they are – but their motives and concerns are to do with fidelity to someone else's idea rather than their own, and this difference is fundamental.) But here I was riveted by the technique on display.There is a moment where Faber recalls being on a beach in Greece with a girl. The two of them have a competition of similes: describing what they can see in terms of what it looks like. This is new ground for scientific-minded Faber, but he gets into it, and the paragraph rolls on for pages:<i>Then we found we could make out the surf on the seashore. Like beer froth. Sabeth thought, like a ruche! I took back my beer froth and said, like fibreglass. But Sabeth didn't know what fibreglass was. Then came the first rays of the sun over the sea: like a sheaf, like spears, like cracks in a glass, like a monstrance, like photos of electron bombardment. But there was only one point for each round; it was no use producing half a dozen similes. Soon after this the sun rose, dazzling. Like metal spurting out of a furnace, I thought: Sabeth said nothing and lost a point….</i>It's hard to describe the effect this long passage has on you, coming as it does after 150 pages in which I don't think a single simile had been deployed. To me it felt like being hit by a truck. It's one of the most unusual and powerful devices I can remember, in terms of constructing a novel, and the reason is that the passage coincides exactly with a moment of exquisite emotion both for Faber the character, experiencing it, and for Faber the narrator, remembering it. There is something technically brilliant going on in here.There are so many other aspects to this superb novel that I haven't even touched on: its comments on the war, its deliberate and wide-ranging internationalism, its precise descriptive scenes. The story is clear-eyed and matter-of-fact and this has a cumulative effect that is quite devastating – heart-breaking, really. And yet for all that, what I am left with is this unexpected, life-affirming feeling…a renewed appreciation of what existence entails:<i>To be alive: to be in the light. Driving donkeys around somewhere (like that old man in Corinth) – that's all our job amounts to! The main thing is to stand up to the light, to joy (like our child) in the knowledge that I shall be extinguished in the light over gorse, asphalt and sea, to stand up to time, or rather to eternity in the instant. To be eternal means to have existed.</i>
Also in the Penguin Modern Classics series | View all