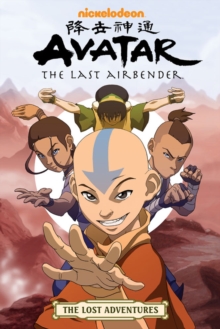 Avatar: The Last Airbender# The Lost Adventures
Paperback
Information
Format: Paperback
Pages: 240 pages, 1 Illustrations, unspecified
Publisher: Dark Horse Comics,U.S.
Publication Date: 14/06/2011
Category: Horror & ghost stories
ISBN: 9781595827487
Free Home Delivery
on all orders
Pick up orders
from local bookshops
Reviews
Showing 1 - 5 of 5 reviews.
Review by Shadowrose96
16/06/2015
I love the Avatar series! I personally think it's one of the most thought out and beautiful cartoons on tv right now. So when I saw the opportunity to read this I just had to try, luckily Dark Horse and NetGalley let me and I'm so happy they did!This is a must for any Avatar fan! These stories take place in between the episodes and are great additions to the show. I admit there were times where I wanted to know how they did certain things and a lot of those questions were answered here. Not to mention some really great "what-ifs" were answered too. Some of these were simply awesome! For instance have you ever wondered what would happen if Bumi and Toph fought? How they managed to get a Fire Nation Navy ship in the third season? Or maybe you were wondering what happens when Aang gets a cold...Trust me these are worth reading. They are really enjoyable stories but you won't find a lot of the same depth in most of them. There is even a cute story about the bender-creation contest that the creators held, which I thought was amazing for them to do.The book is separated into the seasons of the show and the stories in chronological order which really helps you place where each little story goes in the timeline. Some of the artwork is very familiar and others are little more sketchy and rough around the edges, but for me it didn't diminish the book any. it actually made it more enjoyable because you can tell just how many people actually put work into this series. At the end they include some numerous sketches and some stunning background artwork for the show, which is a nice added bonus for those who like the show visually.I recommend this for fans of the show, especially the younger ones who are sure to enjoy it. I'll definitely be buying this once I get the chance.
Review by SDPogue
16/06/2015
I picked this selection because my son is huge Avatar fan. I've watched some of the cartoon episodes and the movie with him but I can't say I have followed it well. I can't think of anytime I have read an Avatar book either.Knowing that, I thoroughly enjoyed this graphic novel. This is a collection of stories that have not been previously published. They touch on parts of the Avatar story but do not tell it. I will say it helps to have some background knowledge of the characters and the world of the last airbender but you do not have to be familiar with the plot to enjoy this collection.The tales are short and humorous. They would entertain any reader but young readers may find some of the wording too advanced (mostly the Asian names). However, the story lines are simple and enjoyable. Though the series revolves around Aang, a male character, there are a couple of strong female characters that would entice any adventurous girl. I think my favorite tale had to do with the two girls having a girl's day out. One doesn't want to go to do girly stuff so the other goes overboard with being tough. In the end, they learn that girl stuff can be fun and tough.This is a must have for any Avatar fan and a great selection for those who like Nickelodeon's action and comedy mixes.
Review by akreese
16/06/2015
Avatar: The Last Airbender – The Lost Adventures is a must have for fans of the Avatar cartoon. If you haven't seen the cartoon series then you are seriously missing out. The stories are intelligent, compelling and humorous, with the storyline continuing from one episode to the next. It's just like watching a good drama that happens to be in cartoon format (and occasionally has a little bit of silly humor for the kids). Trust me, I don't normally like cartoons, but I love Avatar: The Last Airbender. And for those of you who write off the cartoon series after seeing the movie – you're making a big mistake. The cartoon series is far superior in every way to the movie.That being said, you do need to have seen all three seasons of Avatar: The Last Airbender in order for this book to make sense. The book contains 70 pages of new comics and out of print comics which were previously published in Nickelodeon Magazine and in the DVDs. They are organized by timeline, with separate chapters according to where they fall in the series (Water, Earth, and Fire).The stories contained in these chapters almost all live up to the high quality of artistry from the cartoon, and the characters and their adventures mesh easily within the existing storyline. The only qualms I had were with the two bonus stories at the end of the book, which had a different style of artistry and seemed kind of random. But wouldn't you know that those two were favorites with my kids. Speaking of which, my two boys (ages 9 and 6) spent almost three hours over the course of two days reveling in the stories here. They were thrilled to read new Avatar stories, especially since they know the three seasons inside out.
Review by jen.e.moore
16/06/2015
A collection of really adorable Avatar side-stories - mostly kind of trivial, but also featuring the capture of a Fire Nation warship, Zuko &amp; Mai's first kiss, and a train battle with Combustion Man. Oh, and more than one Momoment. <3
Review by MagicCapslock
16/06/2015
I hadn't expected it to be that funny! The funniest for me is "No Benders Allowed". <br/><br/>The different art styles make sure that it doesn't get boring.