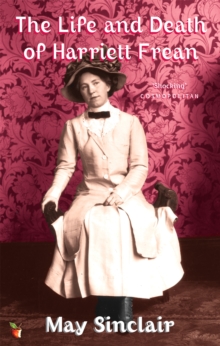 The Life and Death of Harriett Frean
Paperback
Description
Well, I'm glad my little girl didn't snatch and push. It's better to go without than to take from other people. That's ugly.'Harriett is the Victorian embodiment of all the virtues then viewed as essential to the womanly ideal: a woman reared to love, honour and obey.
Idolising her parents, she learns from childhood to equate love with self-sacrifice, so that when she falls in love with the fiance of her closest friend, renunciation of this unworthy passion initially brings her a peculiar sort of happiness.
But the passing of time reveals a different truth. Ironic, brief and intensely realised, The Life and Death of Harriett Frean (1922) is a brilliant study of female virtue seen as vice, and stands with the work of Virgina Woolf and Dorothy Richardson as one of the great innovative novels of the century.
Information
Format: Paperback
Pages: 176 pages
Publisher: Little, Brown Book Group
Publication Date: 14/04/1980
ISBN: 9780860681069
Free Home Delivery
on all orders
Pick up orders
from local bookshops
Reviews
Showing 1 - 3 of 3 reviews.
Review by rainpebble
16/06/2015
Another I read for my All Virago/All August month.And another wonderful book.Harriet was always "the good girl". She is the one who always "wanted to please". And she did. She remained at home taking care of her parents, throughout their lives. She was thirty five at the time of the stock market crash. Her father was a stock market broker and with all the pressure he became ill shortly thereafter and she cared for him throughout his illness until his death. Then she took care of her mother. When her mother took ill she cared for her until her death.Over the years, she waited for her life to begin.This, I am sure sounds a depressing book but it isn't. I would imagine that there are a great many "Harriet Freans" in the world even today.I enjoyed this book very much. It is a quick and easy read. I understood Harriet quite well and will be seeking out more of May Sinclair's work.
Review by startingover
16/06/2015
The story of a self-sacrificing Victorian woman who turns away the man she loves because he's engaged to one of her friends, and persists - even in her thirties - in thinking of herself as 'Hilton Frean's daughter' rather than as a person with her own rights and desires. It's a very short, strange, disturbing little novel written by a woman whose spare prose is very different from the styles of her friends and acquaintances, who included Henry James, Thomas Hardy, and Rebecca West. [June 2006]
Review by eadieburke
27/01/2016
This book was very short and seemed to be written in vignettes but there was a lot of messages under the surface such as; by being so good and self-sacrificing are you giving up promises of a happy and fulfilling life. Harriet put up bars of protection to surround herself but in the end they became bars of imprisonment. It was a quick fast read and I would highly recommend it for the messages conveyed within.
Also in the Virago Modern Classics series | View all