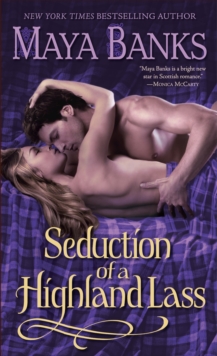 Seduction of a Highland Lass
Paperback
Information
Format: Paperback
Pages: 352 pages
Publisher: Random House USA Inc
Publication Date: 27/09/2011
Category: Historical romance
ISBN: 9780345519498
Free Home Delivery
on all orders
Pick up orders
from local bookshops
Reviews
Showing 1 - 5 of 17 reviews.
Previous | Next
Review by froggykm
16/06/2015
This was a great addition to the series. I am not a fan of medieval historical romances, but wanted to try this because I love Ms Banks's books. I am not disappointed. This one is just as enthralling to me as the first one. The characters drew me in, I felt for them and was in tears a few times. Great story, no matter what your genre preference! :)
Review by thehistorychic
16/06/2015
Read for FunChallenges: Read for FunOverall Rating: 4.75Story Rating: 4.75Character Rating: 4.75Thought when finished: Damn you Maya Banks--I just cried darn it!What I Loved: This was my favorite story in the trilogy. I cried, laughed, went "holy moly that was hot", and fell in love with Alaric and Keeley. It was fantastically written and told! The thing that struck me the most was how emotionally tugging the final chapters were.What I Liked: Getting to see all the McCabe Brothers and their loves. I love the McCabe Clan and they really shined in this story.What left me wanting? I was craving Caelen and Rionna's story!
Review by bkluvr4evr
16/06/2015
Loved it loved it loved it, big strong warrior and a strong lass who loves him. Lots of steamy party ....sigh...... and it made me cry. I haven't cried while reading a book in a long time. then at the end a very happy ending. highly recommend
Review by erinhill01
16/06/2015
I loved this book. It took a completely different turn than I thought it it would after reading the first book in this trilogy. It's not often that a historical romance can surprise me as they tend to all have similar story lines(especially highland romances), but this book was a bit different. It is heartfelt, sensual, and at times both comical and heart wrenching. I don't think there was anything in this book I didn't like, it is A MUST READ.
Review by breezybooks
16/06/2015
Alaric McCabe is set to marry Rionna McDonald of the McDonald clan. This will form an important alliance between the two clans. Alaric is dedicated to his clan and will do what it takes to keep them secure. Even if that means having to marry a woman that he has no desire for. While on his way towards the McDonald land Alaric and his men are attacked. They are all left for dead and Alaric somehow escapes. He ends up at a secluded home that belongs to a woman named Keely. By the time he reaches the home he is unconscious and has a fever. Keely brings him into her home to help heal him. When Alaric's brothers find him in Keely's home they take both Alaric and Keely back to McCabe land. While Keely is healing Alaric their relationship starts to turn into something that it mustn't. They both know how imperative Alaric's marriage to Rionna is to their clan and that he will never be free to be with her.Their romance was very sweet and tender. Their relationship and love grew throughout the book and was a pleasure to read. This was a very emotional book for both Keely and Alaric. Keely was an outcast from her clan for being wrongly accused of a whore. She had been living on her own for years and had to have lived a very lonely existence. When she was taken - literally taken by Ewan - she was welcomed into the clan with open arms and became a part of their family. Every time they called her Keely McCabe I was a little teary eyed right along with her. My heart broke for the couple every time they stole moments together knowing that those little moments was all they would ever have together. I was anticipating up until the very end how they would be able to be together without losing the alliance. I was pleasantly surprised and now can't wait to read the next one!