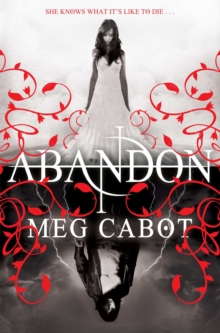 Description
Last year, Pierce died - just for a moment. And when she was in the space between life and death, she met John.
Tall dark and terrifying, it's his job to usher souls from one realm to the next.
There's a fierce attraction between them, which Pierce carries back into our world.
But she knows that if she allows herself to fall for John she will be doomed to a life of shadows and loneliness in the Underworld.
When things get dangerous for her, her only hope is to do exactly what John says.
Can she trust a guy who lives for the dead?
Information
Format: Paperback
Pages: 304 pages
Publisher: Pan Macmillan
Publication Date: 26/04/2011
Category: Fantasy
ISBN: 9780330453868
Free Home Delivery
on all orders
Pick up orders
from local bookshops
Reviews
Showing 1 - 2 of 2 reviews.
Review by princess-starr
16/06/2015
So, this was a pleasant surprise! (Well, it's Meg Cabot, of course I'm going to enjoy it on <i>some</i> level.) Actually, what took me by surprise was the fact that it's very specifically stated that John is <i>not</i> supposed to Hades, and it is a take on the Hades/Persephone myth. That said- I liked Pierce, she's a lot darker than most of Meg Cabot's other heroines. I liked the fact that she's willing to own up to her mistakes and deal with her failures. Also, the fact that John's overpossessive nature creeps her out was really well done. The setting of Isla Huesos was effective creepy, especially the cemetery scenes. However, I did have a number of issues with the book. The secondary characters weren't as developed and I couldn't get that much of a connection with Pierce's cousin or Kayla. I would have liked to have seen more done with them. Also, Richard Smith fluctuates too wildly between "creepy old guy" to "obsessive mentor." My biggest problem, though, was the ending- SPOILERS AHOY! With a random lead-up that seemed to be entirely coincidental, the bad guy ends up being Pierce's own grandmother. Who's had little to do with the entire plot. Or reacted to Pierce's situation. It would have made more sense if it had been one of the school counselors, or one of the A-wing crowd, but nope. It's her grandmother. For really, no reason I can see. Unfortunately, since this is book one in a trilogy, we'll wait and see what happens with this so-interesting "twist."<br/><br/>(I'm not hating the book completely, I did really enjoy a lot of it. It's just that the reveal was out of nowhere.)
Review by MyExpandingBookshelf
27/08/2015
Before I read Abandon I was intrigued by the story. I have read other Meg Cabot books before (in early high school almost ten years ago). However, this book seemed to me to be completely different to the other Meg Cabot books I had read - The Princess Diaries and All American Girl. Abandon appeared to have a more supernatural feel to it.I kind of liked Abandon. It did keep me wanting to read more due to the constant alluding to a "he" at the beginning. Abandon also ends at a point where it feels like it isn't an end so you have to read the next books. There was an almost constant jumping between present and past without warning and this was annoying and also confusing but it was needed to keep the story vaguely interesting and to understand what Pierce was talking about half the time. The "villain" also came as quite a surprise to me at the time... but in hindsight it is also fairly obvious.On the other hand, I found Pierce annoying and because the book was in her point of view I felt that I couldn't enjoy the story as much as I otherwise would have. She constantly repeated phrases over and over again (i.e. "Westport Academy for Girls" and "Check yourself before you wreck yourself"). I also felt that she was a bit of an idiot and she always thought that Daddy's money could fix everything. Her only redeeming feature is that she seemed to be quite a caring person especially towards animals.Abandon also seemed to me to drag on quite a bit. The whole story occurs over 3 days and is filled out the flashbacks. More happened in the last 2 or 3 chapters than there had in the rest of the book. This may be due to the quite in depth description of many of the minor characters that to me wasn't needed. I mean who really cares about how white someones teeth are if there are not a major character.Overall, I thought Abandon was okay. I am going to read the next book in the trilogy, Underworld, as I do want to know what happens.
Also in the The Abandon Trilogy series | View all