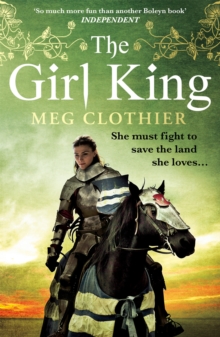 Description
"It is as if Henry VIII, Mary and Elizabeth were combined into one character, and unleashed for the first time: so much more fun than another Boleyn book". ("Independent"). "Compelling, exotic and fast-paced: a wonderful story of love and death that transports you into a forgotten world". (Vanora Bennett). "Speedy, gripping, historical fiction". (Marie Claire). "Clothier has a good story, a vigorous style and well-turned phrase". ("Times Literary Supplement").
Information
Format: Paperback
Pages: 336 pages
Publisher: Cornerstone
Publication Date: 01/03/2012
ISBN: 9780099553137
Free Home Delivery
on all orders
Pick up orders
from local bookshops
Reviews
Showing 1 - 2 of 2 reviews.
Review by Yarrow
16/06/2015
This is the tomboy princess book. You know the one -- personally I'm pretty sure I've read this book about 15 times, just with the names and setting changed. There's a princess, except she's not a *typical* princess because she likes riding horses and fighting and stuff, and she perhaps has a sister, who is more beautiful and more typically princess-y. Because of this, she's secretly her father's favourite, whereas her mother/nurse is on at her to be more ladylike. She encounters growing pains, as she tries to reconcile what she wants to do with becoming more womanly (growing breasts) and men finding her attractive, as well as pushing the limits of what women are allowed to do in their society. However, her courage and abilities win through in the end, perhaps while fighting a war. Her name is perhaps Romilly, or Aravis, or Merida, or Meliara, or Aerin, or Lissar, or Ani, or Jenica, or in this case Tamar.Except this one is all true, and these is what saves it from being lumped with all the rest (look, I like a good tomboy princess book as much as anyone, but we can't pretend they aren't incredibly formulaic). In the 12th Century AD, Queen Tamar ruled over a Golden age of Georgian history and she is idealised there even now. She was the first woman to rule Georgia and despite the initial reluctance to let her rule, by the end of her reign, her lands covered pretty much the entire Caucasus region. I was amazed once I'd finished the book to discover how many of the events really happened. Just like the best of historical fiction, the story made me want to find out more about Tamar the Queen, and more about that region in medieval times, to put Tamar's story into context. A lovely introduction to a really interesting woman.
Review by starbox
27/01/2016
"You Tamar, you will be king when I am dead", 13 November 2015This review is from: The Girl King (Audio Cassette)There's not too many books about the country of Georgia, so was interested to come across this novel on the life of 12th century Queen Tamar, a national heroine and warrior queen.This isn't a work of great literature - it's a tad YA in writing style, as our feisty heroine succeeds her father and faces marauding Turkomen, noblemen who won't accept a female ruler, invading Seljuks and an overbearing aunt. And her love for valiant young soldier Soslani, but an unhappy first marriage to a swine of a Russian...Tamar is fairly one-dimensional; and the author has tweaked the known historical facts so that Sos is rather an unbelievably super-hero character, whether he's rescuing Tamar's sister, capturing a rebel baron, tackling a lion or engaging in one-to-one combat with the enemy...But it kept my attention throughout, providing an easy-read history lesson on a character I wasa not familiar with.
Also by Meg Clothier