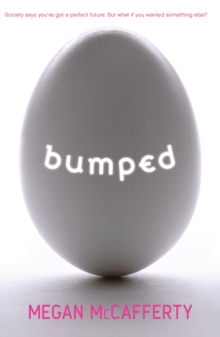 Description
A virus has swept the world, making everyone over the age of eighteen infertile.
Teenagers are now the most prized members of society, and would-be parents desperately bid for 'conception contracts' with the prettiest, healthiest and cleverest girls - cash, college tuition and liposuction in exchange for a baby. Sixteen-year-old Melody is gorgeous, athletic and has perfect grades, and has scored an amazing contract with a rich couple. And she's been matched with one of the most desirable 'bumping' partners in the world - the incredibly hot, genetically flawless Jondoe. But Melody's luck is about to run out. She discovers she has a sister - an identical twin, Harmony, who has grown up in a religious community opposed to the idea of 'pregging'.
Harmony believes her calling is to save Melody from her sinful plans.
Melody doesn't have time for this - she can't wait to meet Jondoe and seal the deal.
But when he arrives and mistakes Harmony for Melody, everyone's carefully-laid plans are swept out of control - and Melody and Harmony are about to realise they have so much more than just DNA in common.
Sharp, original and sassy, this futuristic take on teen pregnancy is totally readable and scarily believable.
Information
Format: Paperback
Pages: 336 pages
Publisher: Random House Children's Publishers UK
Publication Date: 01/08/2011
Category: Science fiction
ISBN: 9780552565394
Free Home Delivery
on all orders
Pick up orders
from local bookshops
Reviews
Showing 1 - 3 of 3 reviews.
Review by elliepotten
16/06/2015
Oh dear... I was so disappointed by this book. I had such high hopes after all the reviewer buzz in the US! On paper, it sounds like an interesting take on the current dystopian trend: the story of two very different twin sisters, set in a society in which a virus has rendered everyone over the age of 18 infertile, and teenagers are paid big bucks by prospective parents to deliver beautiful babies. Melody has been raised to become a 'Surrogette' - a professional baby machine - while Harmony has lived all her life in a conservative church community. When Harmony comes to find her sister to try and 'save' her from her sins, a case of mistaken identity turns their lives, their views - their whole worlds - upside down forever.So far, so intriguing, right? The novel throws the reader head first into Melody's world from page one, with a deluge of baby chatter, futuristic jargon and an insight into the way this pregnancy-obsessed society works for genetically attractive young girls. For a while it was fascinating - but it didn't take long for it to start to feel just too alien to relate to. The incessant sex- and baby-related word play, in everything from the everyday slang to the pop music, began to feel like less of an amusing novelty and more like the kind of thing you'd expect to find being bandied about by teenage boys behind the bike sheds. It was just too much! I understand that this is the whole premise of the novel, but seriously, no one ever talked about anything but pregnancy (or 'bumping', as McCafferty calls it)! As if that wasn't bad enough, the whole novel then flips on its head halfway through, and Harmony and her 'godfreaky' crisis of faith become the main focus. It's like McCafferty had pulled out a book called 'The Bible: Pro or Con?' and was rehashing every argument through Harmony's angst. As if to make up for this, the plot simultaneously becomes more and more disjointed and improbable, with horrendous coincidences and magic wand-waving going on left, right and centre to bring everything together. Then boom! I turned the page, and there were the acknowledgements! It felt like twenty pages were missing from the end.At the end of the book, I walked away thinking, "What the hell was that?" A religious novel? An anti-religious novel? A fun read? A polemic on teen pregnancy? A thinly veiled jab at reproductive ethics? I'm not sure McCafferty herself knew, to be honest. Somewhere in there she lost the plot, lost her characters and - sorry - lost this reader.
Review by Tsana
16/06/2015
An excellent, fast-paced read. I was disappointed it ended so soon and the next book is still months away.I've tagged the book as dystopian YA SF, which it is, but I think it would appeal to non-SF readers too. The SF-y elements are significantly less prominent than, for example in The Hunger Games or Divergent.Mostly, this is a book about teenagers coping with a strange world in which they are the only ones that can ensure the existence of the next generation. In different ways, the youth are encouraged/brain-washed into reproducing as much as they can, ether by being professional surrogate (or "pro surrogettes") or by making amateur babies with their boy/girlfriends.The story follows twin sisters, one raised in the mainstream (American) society, and one raised by conservative, Amish-like Christians. Through their two perspectives (alternating first person) we learn about the world bit by bit. I liked the short chapters which kept the story moving rapidly and gave a feeling of simultaneity for the two plot lines. I also thought the language and slang, particularly of the mainstream sister, was spot on and added authenticity to world building.Overall, I highly recommend it, although some aspects of the sex-culture could irk some readers.
Review by deslivres5
16/06/2015
Interesting premise and how the society is shaped by the limitations put on them by the virus. But I just didn't understand some of the characters, especially Harmony and why she acts the way she does. And still not sure about Jondoe. I'm getting tired of books written with sequels in mind. Just give me a well-planned, written and executed standalone 500+ pager and I'll gladly devour it.