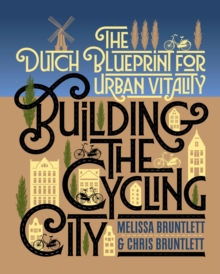 Building the Cycling City : The Dutch Blueprint for Urban Vitality
Paperback / softback
Description
In car-clogged urban areas across the world, the humble bicycle is enjoying a second life as a legitimate form oftransportation.
City officials are rediscovering it as a multi-pronged (or -spoked) solution to acute, 21st-century problems,including affordability, obesity, congestion, climate change, inequity, and social isolation.
As the world's foremost cyclingnation, the Netherlands is the only country where the number of bikes exceeds the number of people, primarily becausethe Dutch have built a cycling culture accessible to everyone, regardless of age, ability, or economic means. Chris and Melissa Bruntlett share the incredible success of the Netherlands through engaging interviews with localexperts and stories of their own delightful experiences riding in five Dutch cities.
Building the Cycling City examines thetriumphs and challenges of the Dutch while also presenting stories of North American cities already implementinglessons from across the Atlantic.
Discover how Dutch cities inspired Atlanta to look at its transit-bike connection in a newway and showed Seattle how to teach its residents to realize the freedom of biking, along with other encouragingexamples. Tellingly, the Dutch have two words for people who ride bikes: wielrenner ("wheel runner") and fietser ("cyclist"), thelatter making up the vast majority of people pedaling on their streets, and representing a far more accessible, casual, andinclusive style of urban cycling-walking with wheels.
Outside of their borders, a significant cultural shift is needed toseamlessly integrate the bicycle into everyday life and create a whole world of fietsers.
The Dutch blueprint focuses onhow people in a particular place want to move.
Information
Format: Paperback / softback
Pages: 288 pages
Publisher: Island Press
Publication Date: 28/08/2018
Category: Urban & municipal planning
ISBN: 9781610918794