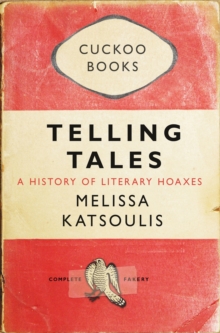 Telling Tales : A History of Literary Hoaxes
Paperback
Description
When Dionysus the Renegade faked a Sophocles text in 400BC (cunningly inserting the acrostic 'Heraclides is ignorant of letters') to humiliate an academic rival, he paved the way for two millennia of increasingly outlandish literary hoaxers.
The path from his mischievous stunt to more serious tricksters like the controversial memoirist and Oprah-duper James Frey, takes in every sort of writer: from the religious zealot to the bored student, via the vengeful academic and the out-and-out joker.But whether hoaxing for fame, money, politics or simple amusement, each perpetrator represents something unique about why we write.
Their stories speak volumes about how reading, writing and publishing have grown out of the fine and private places of the past into big-business, TV-book-club-led mass-marketplaces which, some would say, are ripe for the ripping.For the first time, the complete history of this fascinating sub-genre of world literature is revealed.
Suitable for bookworms of all ages and persuasions, this is true crime for people who don't like true crime, and literary history for the historically illiterate.
A treat to read right through or to dip into, it will make you think twice next time you slip between the covers of an author you don't know...
Information
Format: Paperback
Pages: 336 pages
Publisher: Little, Brown Book Group
Publication Date: 24/09/2009
Category: Literary studies: general
ISBN: 9781849010801
Free Home Delivery
on all orders
Pick up orders
from local bookshops
Reviews
Showing 1 - 1 of 1 reviews.
Review by JBD1
16/06/2015
Quite a disappointing book. Literary hoaxes are a fascinating topic, and a good history of them would be very interesting. But that's not what Melissa Katsoulis gives us with <i>Telling Tales: A History of Literary Hoaxes</i> (2009). Instead we get a collection of potted, repetitive summaries of a few literary hoaxes from William Lauder to James Frey, completely bereft of any citations whatsoever. Given the subject it doesn't seem possible to make a volume like this boring, but Katsoulis has done a pretty good job of that.I found it fairly odd, given that she begins her collection intentionally in the eighteenth century, that Katsoulis doesn't include George Psalmanazar (which would certainly qualify). Odder still are some of the other decisions made about what to include or not. Justifying her criteria, Katsoulis writes "Others, like Thomas J. Wise and James Collier, are not included because their rather pedestrian projects must be called forgeries rather than hoaxes" (p. 1) While I'm fine with her not including forgeries, there are a couple bits of that sentence with which I must take issue. First, it's John Payne Collier, not James; second, <i>pedestrian</i>? I can think of many adjectives to describe what Wise and Collier did, but pedestrian is certainly not among them. (Not to mention the fact that several examples of forgeries, and rather less sophisticated ones at that, are included in the book).Throughout the text there are various small oddities. She seems (p. 26) to equate anonymous publication (in this case of Walpole's <i>The Castle of Otranto</i>) with hoaxing, which is something of a stretch, and Katsoulis proffers a somewhat strange theory that Australia has produced a "disproportionate number" of hoaxes (p. 10), but without offering very much in the way of evidence for this conclusion (other than highlighting just about all the Australian hoaxers she can find). Errors in spelling, grammar, and usage were not infrequent, and the organization of the book struck me as rather strange: first we get chronological chapters (eighteenth and nineteenth-century hoaxes), then things get rather jumbled: Native Americans, Celebrity Testaments, Australia, Memoirs, Post-Modern Ventriloquists, Holocaust Memoirs, Religion, and finally Entrapment Hoaxes).All this is not to say that Katsoulis' book is entirely without merit. There are some interesting bits and pieces, and some decent short introductions to various hoaxes. But if you're actually interested in these things, you may want to look for a different book (one which at least has some reference notes might be a place to start).
Also by Melissa Katsoulis