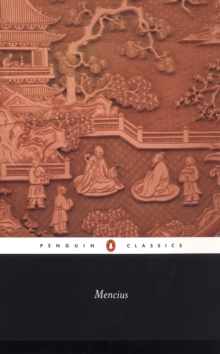 Description
Mencius was one of the great philosophers of ancient China, second only in influence to Confucius, whose teachings he defended and expanded.
The Mencius, in which he recounts his dialogues with kings, dukes and military men, as well as other philosophers, is one of the Four Books that make up the essential Confucian corpus.
It takes up Confucius's theories of jen, or goodness and yi, righteousness, explaining that the individual can achieve harmony with mankind and the universe by perfecting his innate moral nature and acting with benevolence and justice.
Mencius' strikingly modern views on the duties of subjects and their rulers or the evils of war, created a Confucian orthodoxy that has remained intact since the third century BCE.
Information
Format: Paperback
Pages: 304 pages
Publisher: Penguin Books Ltd
Publication Date: 28/10/2004
Category: Oriental & Indian philosophy
ISBN: 9780140449716
Other Formats
Paperback from £10.45
EPUB from £1.07
Hardback from £21.45
Paperback / softback from £10.99
Free Home Delivery
on all orders
Pick up orders
from local bookshops
Reviews
Showing 1 - 2 of 2 reviews.
Review by EricKibler
16/06/2015
Veeeery short.<br/><br/>He just echoes Confucius's sparse sayings.
Review by xuebi
16/06/2015
The <i>Mencius</i> is the seminal, canonical Confucian work in which Mencius (Mengzi ??) expounds on what Confucius said in the Analects, outlining the principles of the innate goodness of human nature, good Confucian government, and the importance of education and destiny. The <i>Mencius</i> was subsequently canonised by the Neo-Confucian scholar Zhu Xi and formed the basis (along with the three other canonical texts) for the imperial examinations until the fall of the Qing.<br/><br/>Unlike his predecessor, Mencius does not use short, aphoristic sayings which are often open to interpretation but instead expounds at length in long prose arguments, which as D. C. Lau explains are the pinnacle of Classical Chinese rhetoric. <br/><br/>The translation by noted scholar D. C. Lau is a noted improvement over previous ones and alongside the detailed introduction that contextualises Mencius in Chinese philosophical thought and contrasts him against Xunzi. <br/><br/>Though perhaps suffering from advances in scholarship since its publication, Lau's translation is still an excellent starting point for the scholar or interested reader, and serves as a starting point for further study in Chinese philosophy.