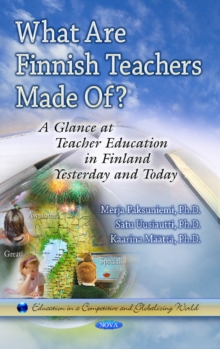 What are Finnish Teachers Made of? : A Glance at Teacher Education in Finland Formerly & Today
Hardback
Description
The purpose of this book is to provide a special viewpoint on the development of the Finnish school system and teacher education.
Understanding the success of today requires information about the past.
The book covers the history, ideological background, and development of Finnish teacher education from the 19th century to today.
The historical review uses a northern Finnish teacher training college of Tornio as the example.
This book provides interesting information about the ideological foundation of the first teacher training colleges, description of how the ideology was applied in the practice of teacher training, and how students were selected for teacher training.
The development of teacher training faced certain hardships too.
What happened in Finnish society since the establishment of teacher training colleges in the second half of the 19th century affected Finnish teacher training significantly.
The book brings out the special circumstances in Finland at the beginning of the 20th century focusing on the war years of 1939-1945.
Also by Merja Paksuniemi