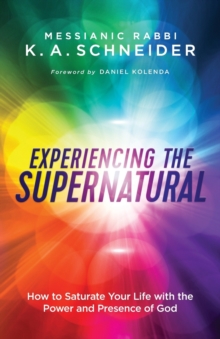 Experiencing the Supernatural : How to Saturate Your Life with the Power and Presence of God
Paperback / softback
Description
Bestselling Author Shows How to Experience God's Presence and Power Every Day!
God is not bound by the laws of the natural world. He is, by definition, supernatural, and He created us in His image.
We are supernatural beings. So why do we confine our understanding of Him--and our relationship to Him--within our own physical, finite limitations?Expecting and experiencing the supernatural in our daily lives should not be a rare occurrence, says bestselling author and Messianic Rabbi K.
A. Schneider. It should be a regular way of living and relating to God, and in these pages he helps you discover the many facets and ways you can live a supernatural life with God, including how to* listen to and trust your intuition* recognize the signs He uses to guide you* experience miracles* hear God through dreams and visions* minister and receive healing and deliverance* and more!God is ready to saturate your life with His supernatural power and presence.
Are you ready to let Him?"This book will open your spiritual eyes to be naturally supernatural!"--Sid Roth, host, It's Supernatural!"This book is must-reading if you want to grow in your relationship with the Lord."--Rabbi Jonathan Bernis, president and CEO, Jewish Voice Ministries International"Wow!
What an eye-opener! This is a must-read to learn how to train your senses to follow the witness of the Holy Spirit."--Marcus D.
Lamb, founder/president, Daystar Television Network"If you desire to experience a realm where all things are possible, this is a must-read!"--Bishop Wayne Jackson, founder/president, Impact Television Network"This book will deepen your relationship with God."--Jentezen Franklin, senior pastor, Free Chapel; New York Times bestselling author
Information
Format: Paperback / softback
Pages: 176 pages
Publisher: Baker Publishing Group
Publication Date: 03/10/2017
ISBN: 9780800798376
Also by Messianic Rabbi K. A. Schneider