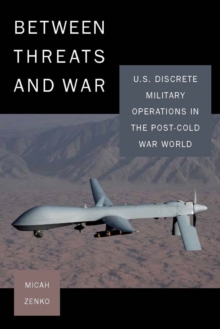 Between Threats and War : U.S. Discrete Military Operations in the Post-Cold War World
Paperback / softback
Description
When confronted with a persistent foreign policy problem that threatens U.S. interests, and that cannot be adequately addressed through economic or political pressure, American policymakers and opinion formers have increasingly resorted to recommending the use of limited military force: that is, enough force to attempt to resolve the problem while minimizing U.S. military deaths, local civilian casualties, and collateral damage. These recommendations have ranged from the bizarre-such as a Predator missile strike to kill Zimbabwean President Robert Mugabe, or the assassination of Venezuelan President Hugo Chavez-to the unwise-the preemptive bombing of North Korean ballistic missile sites-to the demonstrably practical-air raids into Bosnia and Somalia, and drone strikes in Yemen and Pakistan.
However, even though they have been a regular feature of America's uses of military force through four successive administrations, the efficacy of these "Discrete Military Operations" (DMOs) remains largely unanalyzed, leaving unanswered the important question of whether or not they have succeeded in achieving their intended military and political objectives.
In response, Micah Zenko examines the thirty-six DMOs undertaken by the US over the past 20 years, in order to discern why they were used, if they achieved their objectives, and what determined their success or failure. In the process, he both evaluates U.S. policy choices and recommends ways in which limited military force can be better used in the future. The insights and recommendations made by Zenko will be increasingly relevant to making decisions and predictions about the development of American grand strategy and future military policy.
Information
Format: Paperback / softback
Pages: 240 pages
Publisher: Stanford University Press
Publication Date: 03/08/2010
Category: History of the Americas
ISBN: 9780804771917
Other Formats
Hardback from £53.95
EPUB from £15.29